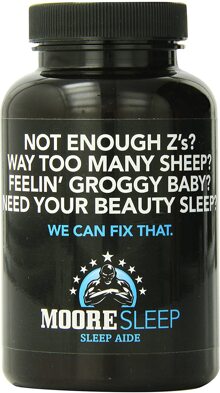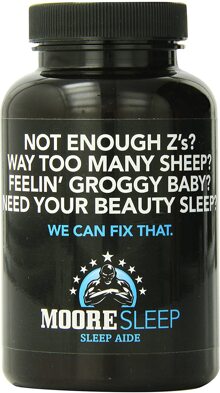 Not enough Z's?
Way too many sheep?
Feelin' groggy baby?
Need your beauty sleep?

We can fix that.

MooreSleep is one of the most powerful supplements
in the MooreMuscle line. It combines the ingredients to help you fall asleep soundly, sleep peacefully and wake up happy, without any feelings of grogginess. Designed by Adam J Moore, MooreSleep has a chemically balanced formula which creates an environment of rest inside your body. No matter what is going on in your mind or your body, you will begin to feel more relaxed and at peace within minutes. MooreSleep is a potent sleep-aide which should be taken during a designated sleep time of 7-8 hours. Forget heavy machinery; do not attempt to do ANYTHING while taking MooreSleep. Think of it as a vacation and enjoy your much needed rest.
Supplement Facts:
Serving Size: 2 Capsules
Servings Per Container: 30
Amount Per Serving
Vitamin B6 5mg 250%
Proprietary SLP Complex 518mg
Proprietary Blends
Proprietary SLP Complex
GABA, Inositol,5-HTP, L-Theanine, Trytophan, Melatonin
Ingredients: Maltodextrin, Gelatin
Directions: For best results, 1 capsule 30-60 minutes prior to sleep.
Warnings: Do not use if you are pregnant or nursing a baby. Consult a physician before using this product if you have any medical conditions. Do not exceed the recommended dose. Keep away from children. Do not use if you are under 18. Keep out of reach of children.
Note: Manufacturers continually change product specifications. While we try our best to keep product descriptions up to date, they do not necessarily reflect the latest information available from the manufacturer. We are not responsible for incorrect or outdated product descriptions and/or images.

These statements have not been evaluated by the Food and Drug Administration. This product is not intended to diagnose, treat, cure, or prevent any disease.