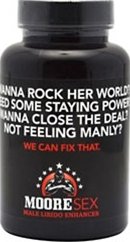 Moore Muscle MooreSex Male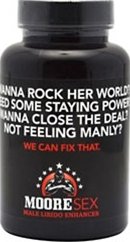 Moore Muscle MooreSex Male
Mooresex Male by Moore Muscle is designed to increase excitement and libido in males. Great for more staying power and harder erections.

Nutrition Facts †
Serving Size 2 Capsules
Servings Per Container 30

Amount Per Serving Serving % DV

Niacin B3 80.0 mg 400%

Proprietary Male SX Complex 1220.0 mg -

Horny Goat Weed, Maca Root, Tribulus Terrestris (60% saponins, 20% protodioscin), Ginko Biloba, Yohimbe Bark Extract (8%)

*percent Daily Values are based on a 2,000 calorie diet.

Ingredients: Maltodextrin, Gelatin.

Directions
Take 2 capsules daily for maximum sexual enhancement.

Warnings

*These statements have not been evaluated by the Food and Drug Administration. This product is not intended to diagnose, treat, cure or prevent any disease.

†Nutritions Facts are a simulation of the product "Nutrition Label". For the actual Nutrition Label please refer to the product packaging.