Quick Links to Best Prices Price History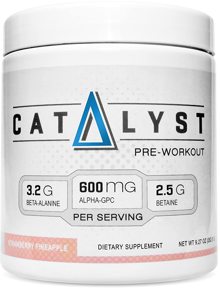 Momentum Nutrition Catalyst
Powerful Pre-Workout - No Stimulant Overload!
• Research-Proven and Dosed Ingredients
• NO Proprietary Blend - 100% Transparent Labeling
• No Artificial Dyes or Fillers - No Unnecessary Ingredients
• Increased Energy, Strength, Endurance, Focus – and Pumps!
CATΔLYST Pre-Workout by Momentum Nutrition is a potent combination of "pump-based" pre-workout ingredients and mentally stimulating pre-workout ingredients – without stimulant overload. CATΔLYST contains only clinically-proven ingredients at clinical doses – such as Beta-Alanine, Betaine, and Beet Root Extract and precisely formulated nootropic ingredients, featuring Alpha GPC.
What you will not find in CATΔLYST is huge amounts of Caffeine and other stimulants that ramp you up only to bring you down - hard. We use a more moderate dose of Caffeine along with Theanine, Hordenine, and N-Methyl-Tyramine to allow a clean, smooth energy boost wihout overload – no more "crashing" half way into your workout!
CATΔLYST believes in full label transparency – nothing is hidden, there is nothing in CATALYST that does not serve a purpose.

Research-Backed Ingredients, Research-Backed Dosing, No Stimulant Overload, 100% Full Disclosure Labeling – What Are You Waiting For! CATALYST Pre-Workout by Momentum Nutrition!

Supplement Facts
Serving Size: 1 Scoop
Servings Per Container: 30

Amount Per Serving

Beta-Alanine - 3.2 Grams
Betaine Anhydrous - 2.5 Grams
Agmatine Sulfate - 1,000 mg
Alpha Glycerylphosphorylcholine - 300 mg
Caffeine - 250 mg
L-Theanine - 100 mg
Hordenine HCI - 50 mg
N-Methyl-Tyramine HCI - 30 mg
Huperzine A - 50 mcg

Other Ingredients:
Citric Acid, Watermelon Fruit Powder, Silicon Dioxide, Calcium Silicate, Natural & Artificial Watermelon Flavor, Acesulfame Potassium, Sucralose.

Directions
To use: To determine tolerance, begin with ½ scoop mixed with 8oz. cold water, consume 20 minutes before your workout. Once tolerance has been determined, you may use 1 full scoop.

Allergen Warning: Contains Soy.

Warnings
Discuss with your physician before taking if you have a medical condition or are taking any prescription medications. Stop use and discuss with your physician if any negative effects occur. Do not exceed suggested dose. This product contains 250mg of caffeine per serving.  Do not combine with other stimulant-containing products. Do not take within 5 hours of bedtime. Do not take if pregnant or lactating. Must be 18 years old to use this product.  Keep away from children. Do not use if seal has been tampered with. Store in a cool, dry place.