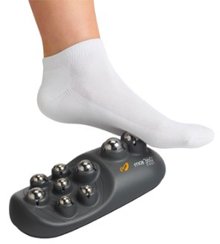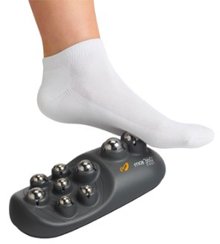 Portable, Easy To Use, & Convenient!
Portable, easy to use and convenient, the Moji 360 Massager uses stainless steel massage spheres to work on every muscle group to help you recover and feel great! Whether you like deep tissue or gentle massage, the Moji 360 Massager feels amazing. Since the massage is in your hands, you decide when you want more intensity and when you want more "mmmmm."
Makes Dynamic Massage Easy
You don't need a yoga certification to use Moji 360 Massager. Couch, train, bed or under the conference table - Moji 360 massage products are easy to use and require no crazy body contortions.
Kicks Massage Butt
Omni-directional; rollers break up scar tissue and mimic the strokes of a massage therapist. That makes the Moji 360 Massager a lot more effective and less painful than static pressure.
Throw Away the Bag of Whosiewhatzits
Thanks to Moji 360 Massager's unique shape and Tri-Zone technology, different spheres and arrays allow for varied intensity depending on which zone you choose to use.
Check out the more compact Moji Mini Massager Here!
Additional Images:
Click to Enlarge