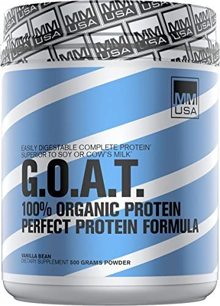 MMUSA GOAT Muscle Builder Formula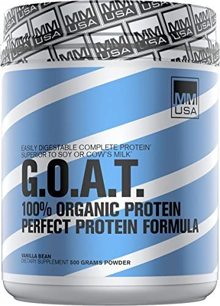 MMUSA GOAT Muscle Builder Formula
GOAT Muscle Builder Benefits
Unrefined Pure, Organic Protein
Delicious & Creamy Chocolate Flavour
Lacto-Fermented for Easy Digestion
Defends Against Proteolysis (Muscle Breakdown)
No Antibiotics or Female Growth Hormones
What's in it For You?
We build the foundations of our muscles and blood, our brains and our hearts from proteins. To build leaner, stronger muscles you need a proven protein that performs. Muscle Builder Formula is a great-tasting source of 100% complete protein that will work for you. It's a unique powder made from whole organic goat's milk. A complete and perfect protein source. You'll see measurable results within the very first week.*
Because Muscle Builder Formula is a natural blend of both casein and whey proteins, it triggers incredible muscle building stimulation. And inhibits the factors that lead to muscle breakdown. This makes Muscle Builder Formula an ideal choice for bodybuilders, power athletes and anyone concerned with building lean muscle mass.*
This easy-to digest organic goat protein is made up of 20 amino acids, 8 of which are considered "essential" because they are not produced by your body. This means you must obtain these critical muscle building blocks from the foods you eat and the supplements you choose to trust.
Unlike other animal and vegetable protein sources that are not as complete, Muscle Builder Formula is minimally processed, without harsh or toxic chemicals. This gives you, ounce for ounce, better nutritional value without unnecessary risks or additives - which can be especially relevant if you are on a low carbohydrate plan or other specialized diet. Or simply want the peace of mind that pure, natural nutrition brings.
Our healthy, happy goats are raised in a humane and sustainable environment in the mountain-sheltered meadows of the Pacific Northwest. Our goats are not fed pesticides, growth hormones, or antibiotics. And lazily graze on herbicide-free grasses and other plants that grow in rich hill soil that contains all its natural minerals because we never use industrial fertilizers or desiccants.