Warning: This product is not currently available at any store.
Click the button above and PricePlow will email you when the first store has it in stock!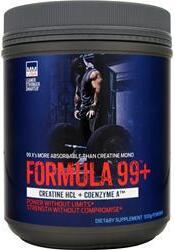 BENEFITS
Increased Strength and Power Support*
Increased Muscle Mass Support*
Increased Workout Capacity and Recuperation Support*
Ultimate Explosive Power Support*
Superior Strength Building Support*
Promote Extended Endurance*
WHAT'S IN IT FOR YOU?
Creatine Ethyl Ester HCL: Power Without Limits, Strength Without Compromise*
A Poweful, Explosive Form Of Creatine That Supports Increased Muscle Cell Volumization, Eliminates The Need For All Loading And Scheduling, 99+ is Highly Absorbable*
Coenzyme A™: Super-Catalyst Accelerates The Atp Cycle, A Key Element In The Synthesis*
No Extra Additives Like Maltodextrin: The Low Glycemic Polysaccharide That Adds Extra Calories And Dilutes The Quality Of Other Products Claiming To Be Expensive Pure Creatine HCL But Do Not Come Clean And Display Their Ingredient Panels On Their Websites.
WHY WE INVENTED THIS PRODUCT
Creatine monohydrate for most of you muscle building guys and gals may be problematic. Do you actually enjoy all that loading and cycling?*
Now the good news. FORMULA 99+™ Creatine HCL is uniquely formulated to deliver the best of creatine, and much more. Especially for you competitive types who want to build big body mass and have power and energy to burn.*