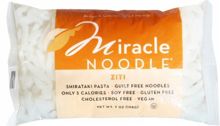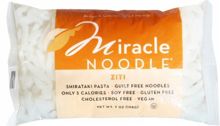 Miracle Noodle is the premier, low calorie, soy free, gluten free, vegan and non gmo, Kosher Shirataki noodle.
Miracle Noodle was founded by Dr. Jonathan Carp, MD in 2006 after being introduced to the miraculous Konjac plant and its amazing health benefits for Weight loss, Diabetics, Bodybuilders and Celiac's.
Miracle Noodle is made only from the soluble fiber of the konjac plant as such it only contains a healthy soluble fiber known as Glucomannan and absorbs the flavor of and sauce or dish you prepare. Since it is only made of soluble fiber it is remarkably low in calories. Now you know why we call it Miracle Noodle!
Key Benefits
Made of a naturally water soluble fiber call Glucomannan that contains no fat, sugar or starch
Contains zero net carbohydrates & zero calories
Wheat, Soy and Gluten Free & Kosher
Easily absorbs the flavors of any soup, dish or sauce
Instantly ready and comes in a variety of noodle shapes
Works well with all major weight loss weight plans
Great for people with Diabetes, Celiacs & High Cholesterol
Made in the USA