Warning: This product is not currently available at any store.
Click the button above and PricePlow will email you when the first store has it in stock!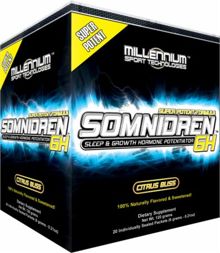 Millennium Sport SOMNIDREN-GH
SUPPORT REM SLEEP
SUPPORT HGH RELEASE
ACCELERATE RECOVERY
ULTRA FAST ABSORPTION
100% NATURAL FORMULA
SOMNIDREN-GH is an ultra potent, target response sleep and growth hormone potentiator formulated to support recuperative REM sleep & HGH production while promoting relaxation and a favorable anabolic environment while sleeping.*
We all know that the pituitary gland is our master endocrine gland effecting all hormonal stasis and functions of the body. One of the most important hormones secreted by the pituitary is growth hormone (HGH or Somatotropin). Somnidren-GH supports HGH secretion by supporting the GABA, dopamine, serotonin and acetylcholine neurotransmitters. Somnidren-GH goes one huge step further by providing nutrients and compounds that support longer activity and viability of HGH by enhancing the inhibition of somatostatin.*
Unlike most HGH-supporting products Somnidren-GH is free of sugar and carbs and will NOT elicit an insulin reaction. If insulin is present growth hormone will not be released.
Somnidren-GH is 100% natural and doesn't contain any artificial flavors, colors or sweeteners!