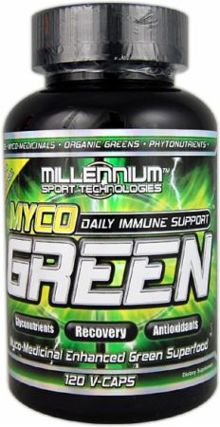 Millennium Sport MycoGreen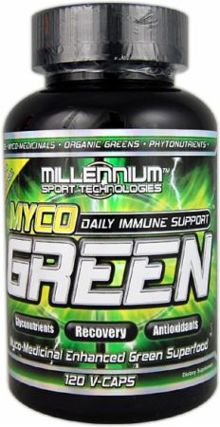 Millennium Sport MycoGreen
Helps Support A Healthy Immune System and Adrenal Function!*
As athletes we are bombarded daily by environmental pollutants, toxins and exercise induced free radicals that may hamper our ability to perform and recover properly. Lactic acid and ammonia build up in the muscle cells creates an acidic environment which further weakens cell membranes and may lead to slower recovery.
MycoGreen™ is a 100% vegetarian blend of Organic Greens, Glyconutrients, Phytonutrients, Sea Vegetables and Antioxidants for nutritional support and assistance in daily cleansing and detoxification at the cellular level.* MycoGreen™ helps you combat physical fatigue while supporting proper pH, healthy immune system function and recovery.*
MycoGreen™ is enhanced with a powerful glyconutrient rich myco-blend to help support healthy immune system and adrenal function.* Athletes put incredible amounts of stress on their bodies on a daily basis which requires higher levels of comprehensive support to help ward off over training. MycoGreen™ contains 100% organic, polysaccharide and Beta 1,3/1,6 glucan rich Maitake (Grifola frondosa), Cordyceps sinensis, Agaricus Blazei, Inonotus obliquus (Chaga) and Astragalus to support healthy immune and adrenal function.*
Mycogreen™ is also enhanced with prebiotics, digestive enzymes and MSM to support cellular detoxification and cell permeability and promote healthy digestion, absorption and utilization of nutrients.*
MycoGreen™ Features:
100% Organic Greens
100% Organic Myco-blend
Glyconutrients
Beta 1,3/1,6 Glucans
Antioxidants*
Digestive Enzyme Support*
Pre-Biotics
Omega 3,6 & 9
Promote Recovery*
Support Healthy pH*
Support Healthy Immune System*
Sea Vegetables
Equivalent To 10.5 Bottles of MycoGreen V-Caps
MycoGreen™ should be stacked with MVP-365™ & ZMK™ for additional nutritional & recovery support.*
F.A.Q.
Q: Who needs MycoGreen™?
A: Anyone who wants to promote an environment to help maintain health within themselves.* MycoGreen™ helps support the immune system through compounds that we may not get through our daily diet, promoting cellular detoxification as well as helping prevent acidosis caused by the standard American diet and helping one to avoid the pitfalls of overtraining.*
Q: How can MycoGreen™ help my performance?
A: MycoGreen™ may help your performance in many ways. MycoGreen™ can help with performance and recovery as it may support in scavenging cellular toxins like lactic acid and ammonia.* MycoGreen™ may assist in alkalizing the body's pH and reducing performance robbing acidosis.* MycoGreen™ also contains a high amount of polysaccharides from the myco-blend which may help support a healthy immune system.* These polysaccharides also promote oxygen utilization, which every athlete needs to support cardiovascular & muscular performance.* MycoGreen™ also contains antioxidants to support protection against exercise induced free radicals.*
Q: I use a liver support/cleanse product. Should I take MycoGreen™ along with it?
A: ABSOLUTELY! When taking a liver support product it is important to take in compounds like those in MycoGreen™. Taking MycoGreen™ along with your liver support or cleansing product may help promote results.* We recommend everyone who is using a liver support product for any reason take MycoGreen™ with it.
Q: I eat pretty clean so do I really need MycoGreen™?
A: In this day and age it's very difficult for an athlete to eat clean enough to properly help combat the high amounts of environmental toxins we are exposed to or get the support from our daily food intake that MycoGreen™ offers.* MycoGreen™ contains nutrients you don't normally get in even a 100% organic diet that are suggested for cellular detoxification, pH balance and immune support.*
Q: How does MycoGreen™ differ from other green supplements?
A: Although MycoGreen™ contains a high amount of organic greens and phytonutirients it also contains a high amount of powerful polysaccharides and a beta 1,3/ 1,6 glucan rich myco-blend, which you won't find in many other greens supplements. MycoGreen™ is specifically formulated with the athlete's needs in mind. MycoGreen™ incorporates 100% organic Cordyceps sinensis, 100% organic Grifola frondosa, 100% organic Agaricus blazei, 100% organic Inonotus obliquus which contain powerful polysaccharides, glyconutrients, beta 1,3/1,6 glucans and alpha glucans, which may promote healthy immune and adrenal function essential to an athlete's overall performance.*
Q: I hate taking greens because they taste bad and I burp them up.
A: Good news! MycoGreen™ comes conveniently packaged in easy to swallow veggie capsules and smells like a pack of spearmint gum. MycoGreen™ not only tastes good but it freshens your breath. MycoGreen™ contains our Bio-Enhance-D™ blend to promote digestion and assimilation.*
Q: Can I take MycoGreen™ with other MST products?
A: YES! MycoGreen™ was formulated to be taken alongside MVP-365™ and ZMK™ for total daily nutritional support.* We call the combination of these three powerful products the "ULTRA FOUNDATION STACK™"
Q: Can I take MycoGreen™ post workout?
A: Yes, MycoGreen™ used post workout may support the scavenging of lactic acid and ammonia and to promote in the recovery process.*
Q: Can I take MycoGreen™ at night?
A: Yes, Mycogreen™ may promote the binding of toxins during the body's natural detoxification process at night.*