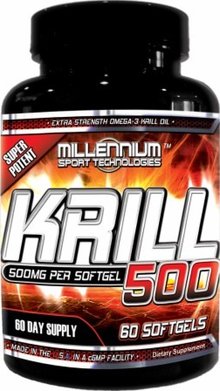 Millennium Sport Krill 500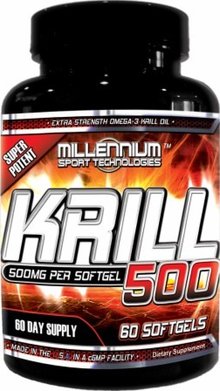 Millennium Sport Krill 500
Super Potent, Easily Absorbed!
Krill-500 is super potent and provides a full 500mg of 100% pure, EPA, DHA and phospholipid rich Omega-3 Krill oil per softgel.
Krill Oil is more easily absorbed than fish oil and does not cause any fishy burp-back or aftertaste.*
Suggested Use: As a dietary supplement, take one (1) softgel daily or as otherwise directed by your healthcare provider.
Allergen Warning: Contains Shellfish (Krill)
Warning: People with shellfish allergy, coagulopathy or taking anticoagulants or other medications should notify their physician and be tested prior to taking dietary supplements. If you are pregnant or nursing, consult your physician before taking this product. Keep out of reach of children.
Store in a cool, dry place with lid tightly closed.
*These statements have not been evaluated by the FDA. This product is not intended to diagnose, treat, prevent or cure any disease. Individual results may vary.