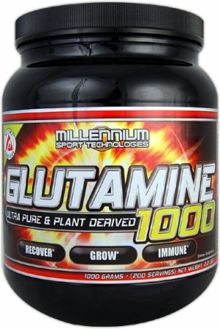 Millennium Sport Glutamine 1000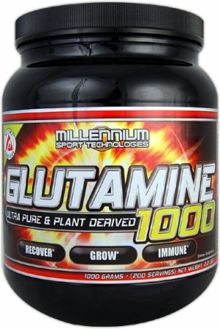 Millennium Sport Glutamine 1000
AJIPure Glutamine 1000: Ultra Pure & Plant Derived!
L-Glutamine is referred to as a "conditionally essential amino acid" meaning in catabolic states brought on by exercise induced muscular stress, glutamine becomes essential (requiring intake from food or supplements) because the body can't keep up with production.* L-Glutamine is the most abundant amino acid in the human body and is involved in many metabolic processes including the synthesis and protection of muscle tissue, the production of glycogen and immune support.* First and foremost L-Glutamine is a fuel source for enterocytes (intestinal cells) supporting the integrity of the intestinal lining and then is scavenged by millions of macrophages, lymphocytes and fibroblasts to support proper immune system function.* This necessitates glutamine supplementation to meet optimal muscle tissue repair and recovery needs.*
Millennium Sport Technologies brings you only premium and pure ingredients!
Support Muscle Recovery*
Support the Immune System*
Promote Endurance*
Support Strength and Power*
Increase Muscle Fullness*
Improve Nitrogen Balance*
Cellular Energy Source*
Nearly Tasteless
Mixes Instantly
Plant Derived