Warning: This product is not currently available at any store.
Click the button above and PricePlow will email you when the first store has it in stock!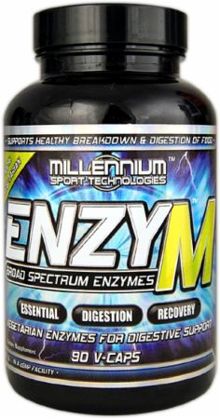 ENZY-M is a 100% vegetarian, broad spectrum digestive enzyme blend formulated to support optimal digestion of proteins, carbohydrates and fats over the typical gastric pH ranges of 1.5 to 9.0 to maximize nutrient uptake and overall recovery.* ENZY-M also contains our comprehensive Herba-Soothe GI blend to calm and soothe the digestive tract even when subjected to heavy or troublesome meals.*
Unless you are eating a nearly 100% organic and raw diet you probably are not getting the proper amount of enzymes to adequately aid in breaking down food for proper nutrition and recovery.*
Non-organic farming, soil depletion and premature harvesting of fruits and vegetables make it very difficult for the average person to consume optimal enzyme content let alone an athlete who needs to properly breakdown meals to aid in recovery from strenuous training sessions and competition.
ENZY-M is formulated for the athlete who is eating many smaller but clean meals and needs that extra help with properly digesting the essential nutrients for recovery, growth and performance.*