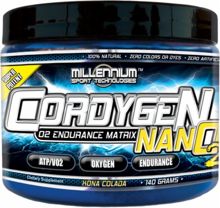 Millennium Sport Cordygen-NanO2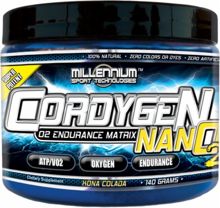 Millennium Sport Cordygen-NanO2
Cordygen-NanO2™ combines our exclusive OxyCeps-NanO2™ cordyceps extract & C-NanO2 Drive Matrix™ to create our fastest acting oxygen utilization and ATP supporting formula to date!*
OxyCeps-NanO2™ is a powerful, 100% organic, 16:1 extract (equivalent to 9600mg of cordyceps whole herb per serving) of hybrid strain Cordyceps sinensis with a highly reduced particle size (38% nano particle). The higher concentration of active constituents provides superior performance while the reduced particle size ensures rapid absorption and action.*
The rapid absorption factor makes Cordygen-NanO2™ ideal for those who train early in the morning or can't find time to properly dose the Cordygen5™ or Cordygen-VO2 ULTRA™ products. Cordygen-NanO2™ is gentle on the stomach, making it a great fit for those with sensitivity.
Our Cordygen brand cordyceps products are used by top athletes worldwide and are the strongest performance supporting cordyceps products available.* Whether you train as a strength athlete, endurance athlete, MMA fighter, CrossFit athlete or gym rat you'll crush your aerobic and anaerobic plateaus with Cordygen-NanO2™.*
FAQ
Q: What makes Cordygen-NanO2™ different from Cordygen5™ or Cordygen-VO2 ULTRA™?
A: There are many differences! Below are a few bullet points to help out.
Cordygen-NanO2™ is the fastest absorbing and acting cordyceps product on the market.* Due to the nano-particle, 16:1 OxyCeps-NanO2™ cordyceps extract absorbing faster many athletes feel pronounced effects in as little as 5-10 minutes.*
Cordygen-NanO2™ comes in a great tasting, instantized, 100% natural powder form and doesn't require swallowing capsules.
Cordygen-NanO2™ is easier to stack with other cordyceps containing products and is easier on the stomach for those few with sensitivity.
Cordygen-NanO2™ utilizes Glucidex (high molecular weight potato maltodextrin), Palatinose (Isomaltulose, disaccharide) and Treha (Trehalose, disaccharide) to aid delivery.*
Q: Who should use Cordygen-NanO2™?
A: Cordygen-NanO2™ was formulated for use by adult, elite athletes, but can be used by anyone looking to support their athletic performance and immune system.* It's especially effective for athletes that can't find time to dose the other "Cordygen" brand products appropriately for their needs. Cordygen-NanO2™ is perfect for those early-bird athletes who train first thing in the morning or those with an erratic training schedule who can't give a product 30-120 minutes to kick in.
Q: Is Cordygen-NanO2™ stronger than Cordygen5™ and Cordygen-VO2 ULTRA™?
A: Great question! The answer isn't as straight forward and would depend on the individual needs of the athlete.
Yes - For short duration training and events the Cordygen-NANO2 feels stronger on a dose to dose basis (not taken every day). The 600mg of OxyCeps-NanO2 16:1 extract is equivalent to 9600mg of whole herb cordyceps. This and the fact that it kicks in so fast makes it feel very strong. The rapid action of Cordygen-NanO2 makes it ideal for athletes needing endurance and oxygen utilization support for training sessions or competitions under 4 hours in duration.* Athletes competing in Half Ironman, Ironman or other ultra-distance events would want to re-dose accordingly.
No - Cordygen-NanO2 isn't necessarily stronger than Cordygen5 or Cordygen-VO2 ULTRA when taken on a daily basis. After the first week of consecutive use all three products will likely feel similar with the effects of Cordygen-VO2 ULTRA and Cordygen5 enduring in longer duration training and competition conditions unless the Cordygen-NanO2 was re-dosed midway.
Q: Can I stack Cordygen-NanO2 with other products?
A: YES! We formulated Cordygen-NanO2 to stack easily with our entire line. It can be added to INFINIT-E for your fueling needs or mixed into RagNOrok-ULTRA or other pre-workout products to rev them up.
Note: When stacking two or more cordyceps containing products together reduce the dosage of one or both products.