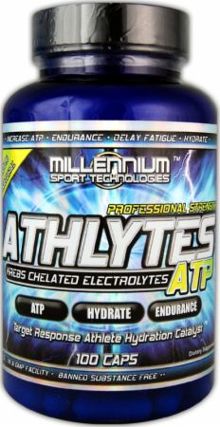 Millennium Sport Athlytes-ATP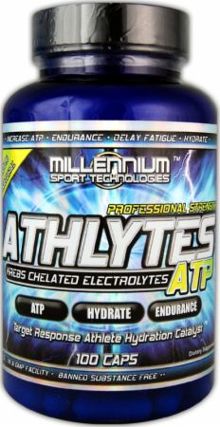 Millennium Sport Athlytes-ATP
Krebs Cycle Electrolytes*
Optimize Hydration*
Increase Endurance*
Increase ATP*
Help Delay Fatigue*
Athlytes-ATP™ is formulated for the specific needs of true athletes under the most grueling training & competition conditions. Athlytes-ATP™ is an effective ATP promoting, Krebs cycle chelated electrolyte complex.* Athlytes-ATP is enhanced with Vitamins B2, B6 and MSM to aid in proper absorption and cell permeability optimizing fluid transfer and uptake at the cellular level.*
Clinical studies suggest that during intense prolonged exercise athletes can lose from 1500mg to 3500mg of sodium & electrolytes per hour. Athlytes-ATP™ is formulated to help combat dehydration during intense physical activity for optimal performance as well as assist in properly rehydrating the body after exercise, endurance event or competition.*
The electrolytes in Athlytes-ATP™ are chelated to the Krebs Cycle Intermediates Citrate, Fumarate, Malate, Succinate & Alpha-Keto-Glutarate. These organic acids are responsible for energy production (ATP) within every cell of the body. Minerals chelated to these Krebs Cycle Intermediates show superior bioavailability & are better absorbed & utilized.*
**Athlytes-ATP™ is formulated and manufactured without the use of any banned substances and conforms to WADA & IOC standards.
F.A.Q.
Q: Who needs Athlytes-ATP™?
A: We all sweat during exercise! Anyone who participates in physical activity to where electrolyte replenishment and proper hydration is essential can benefit from Athlytes-ATP™.*
Q: How many Athlytes-ATP™ capsules do I need?
A: During intense physical activity many athletes lose more than 1500mg of sodium alone per hour and many experts recommend supplementing and replacing at least 30%-40% (450mg to 600mg per hour) of the loss per hour. Experts also recommend dosing by the size of the athlete since smaller athletes have different needs than larger athletes. Since many athletes are supplementing with carbohydrate sources and supplements that might already contain sodium we recommend that:
Smaller athletes supplement with 1 capsule per hour
Medium athletes supplement with 1-2 capsules per hour
Large athletes supplement with 3-4 capsules per hour
Q: Why is Athlytes-ATP™ in a capsule form?
A: Easy and convenient dosing!
Q: How does Athlytes-ATP compare to other electrolyte products or mass market sport drinks?
A: Athlytes-ATP™ is a full spectrum electrolyte product that contains sodium, potassium, chloride, calcium, magnesium, vitamin B2 (riboflavin), vitamin B6 (in coenzyme P5P pyridoxal-5-phosphate form), MSM (methysulfonylmethane) and 489mg of Krebs Cycle Intermediates to support ATP regeneration.* With Athlytes-ATP™ you don't have to worry about acidic sports drinks or drink mixes that only provide sodium chloride and are loaded with performance robbing sugar, high fructose corn syrup, artificial colors, flavors or sweeteners.
Q: Why doesn't Athlytes-ATP™ have L-Tyrosine or caffeine?
A: Athlytes-ATP™ doesn't contain caffeine or l-tyrosine because we feel under race or event conditions that an athletes dopamine and adrenaline levels are already greatly heightened. Stimulants like caffeine will only dehydrate an athlete faster as well as artificially accelerate heart rate decreasing oxygen utilization and ultimately performance.* We especially recommend avoiding caffeine and other stimulants if you use our Cordygen5™ or Cordygen-VO2 ULTRA™ products to ensure optimal oxygen utilization and endurance from the products.*