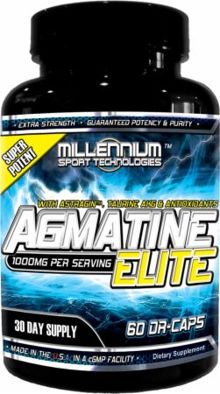 Millennium Sport Agmatine Elite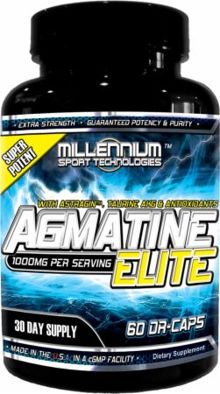 Millennium Sport Agmatine Elite
Agmatine-Elite contains a potent combination of Agmatine Sulfate, AstrGin, Taurine-AKG and Grape Seed Extract. Agmatine-Elite is packaged in a special delayed release veggie capsule to provide its super-potent ingredient matrix protection from destruction in the low pH environment of the stomach.*
Agmatine-Elite may be stacked with most MST products, including CRE-02, Cordygen-NanO2, Cordygen5, INFINIT-E or RagNOrok-ULTRA.
Suggested Use: On training days: As an adult dietary supplement, take two (2) delayed release veggie capsules 45-90 minutes pre-workout or with your favorite pre-workout product. On non-training days: take one (1) or two (2) delayed release veggie capsules in the morning with a meal.
Warnings: This product is only intended to be consumed by healthy adults 18 years of age or older. Pregnant or nursing women should not use this product. Consult with your health care provider before using this product, especially if you are taking any prescription, over the counter medication, dietary supplement or if you have any pre-existing medical condition including but not limited to: high or low blood pressure, cardiac arrhythmia, stroke, heart, liver, kidney or thyroid disease, seizure disorder, psychiatric disease, diabetes, difficulty urinating due to prostate enlargement or if you are taking a MAO-B inhibitor or any other medication. Discontinue use and immediately consult your health care professional if you experience any adverse reaction to this product. Do not exceed recommended serving. Do not use if safety seal is broken or missing. KEEP OUT OF REACH OF CHILDREN!
*These statements have not been evaluated by the FDA. This product is not intended to diagnose, treat, prevent or cure any disease. Individual results may vary.