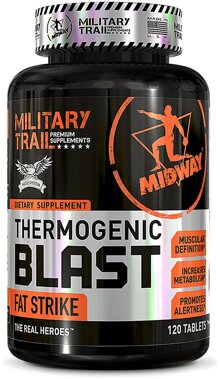 Military Trail Thermogenic Blast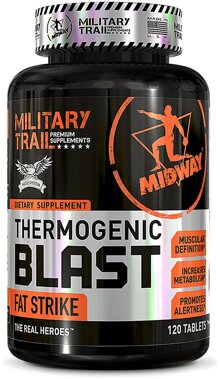 Military Trail Thermogenic Blast
Scorching Fat Loss - Military Trail Thermogenic Blast 120 Tabs
Time to take those fat cells that no one wants to pop them in the oven to get rid of! Now it's easy to boost your metabolism and turn your body into a fire hot pizza oven to melt that stubborn fat off! Introducing the power of Midway Labs, Military Trail Thermogenic Blast 120 Tabs. Feel and see the difference as you become one with fire!
---
What are the benefits of Military Trail Thermogenic Blast?
Muscle Definitation
Increase Metabolism
Promotes Alertness and Full Energy
Increases internal temperature to burn fat
---
What is Military Trail Thermogenic Blast?
Thermogenic Blast by Military Trail is a thermogenic fat burning formula that helps increase your metabolism to burn fat and when combined with diet and exercise can work wonders. This unique formula is designed to help promote awareness and keep your energy up so you can go through your day on top of having help increasing muscles.
---
What is in Thermogenic Blast by Military Trail?
This thermogenic advanced formula is made for you to lose fat, by raising your temperature and metabolism to make your body a fat burning machine. In order for this to happen, it has a great ingredient list that has natural ingredients.
Citrus Aurantium Fruit Extract, or Bitter Orange, is a fruit from southeast Asia that helps with supressaning appetite and promote weight loss. What it does is affect the central nervous system to increase blood pressure and have the heart beat faster.
St. John's Wort Herb is a plant that has been used in medicinal purposes. This amazing herb is used to treat anxiety and upset stomach. Its also known to help with muscle pain and inflammation, which is great when working out.
Green Tea Leaf Extract is the concentrated version of green tea! Green tea is super high in antioxidants, which are needed for the immune system. It's also known to aid in weight loss because of the caffeine content and catechins. These aid in weight loss by regulating hormones and suppressing appetite.
Caffeine has been used for hundreds of years for weight loss aid! By taking caffeine,it is a natural hunger suppressant, so you will eat less, therefor losing weight. Caffeine also makes your heart beat faster and keeps your body alert, helping aid in weight loss.
---
How Do I Take Military Trail Thermogenic Blast?
We recommend to take 2 tablets twice daily. Taking more than the recommended amount may cause adverse reactions listed in warnings.
---
Military Trail Thermogenic Blast

Ingredients

Serving Size: 2 Tablets

Servings per Container: 60

Amount Per Serving

Calcium: 148mg 15%

Chromium (as Chromium Polynicotinate): 200 mcg 167%

Citrus Aurantium Fruit Extract (6% Synephrine): 487.5mg

St. John's Wort Herb Extract (0.3% Hypericin): 450mg

Green Tea Leaf Extract (45% EGCG): 300mg

Caffeine (as Caffeine Anhydrous): 264mg

Other Ingredients: Microcrystalline Cellulose, Dicalcium Phosphate, Croscarmellose Sodium, Stearic Acid (vegetable), Silicon Dioxide, Magnesium Stearate(vegetable), Coating (Hypromellose, Polydextrose, FD&C Red #40, Talc, FD&C Yellow #6, Medium Chain Triglycerides, Titanium Dioxide, FD&C Blue #2)
---
Military Trail Thermogenic Blast Warnings & Side Effects
This product is only intended to be consumed by healthy adults 18 years of age or older. Before using this product consult with your physician if you are using any prescription or over the counter medication or if you have any pre-existing medical condition including but not limited to: high or low blood pressure, cardiac arrhythmia, stroke, heart, liver, kidney or thyroid disease, seizure disorder, psychiatric disease, diabetes, difficulty urinating due to prostate enlargement or if you are taking a MAOI (Monoamine Oxidase Inhibitor), SSRI (selective serotonin re-uptake inhibitor) or any other medication.
One serving of this product contains about 300 mg of caffeine, about the amount typically found in a 18 oz. cup of the premium coffee house coffee. Do not combine with other sources of caffeine (i.e. tea, coffee, cola beverages and energy drinks). Too much caffeine may cause nervousness, irritability, sleeplessness, rapid heartbeat or other conditions in some individuals. Discontinue use and consult your health care professional if you experience any adverse reaction to this product. Do not exceed recommended serving. Do not use if pregnant or breast-feeding.