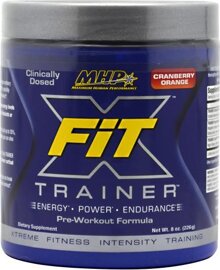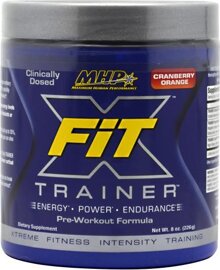 X-FIT TRAINER
Clinically Dosed Pre-Workout Formula For HIGH INTENSITY CROSS-TRAINING
MEET YOUR NEW TRAINER
A new era in training has emerged. Millions of fitness enthusiasts have taken a step away from conventional bodybuilding workouts and embraced a new training philosophy – work out hard, fast and efficient. The result? Support a lean, muscular, well-conditioned physique in less time!* Now, the world has a pre-workout supplement that can match up to the unique demands of extreme training. It's called X-FIT TRAINER from MHP, a global leader in performance nutrition innovations.
Increase energy levels up to 79%. TRAINER contains all natural, high powered ingredients to boost energy, improve mental focus and maximize intensity during your workouts.* TRAINER contains no synthetic stimulants or any substances banned by WADA.
Increase muscular endurance and lactic acid buffering up to 35%. TRAINER's massive 3.2 gram clinical dose of beta-alanine will help you train faster and harder.
Boost your strength gains up to 45%. TRAINER's clinical dose of creatine helps you push heavier weights for more reps.
Lower cortisol up to 24%. Frequent high-intensity training can chronically elevate cortisol, a catabolic hormone. Only TRAINER contains CortiFit, a patented high-potency, adaptogenic botanical extract so you can promote lean muscle mass.*
Increase post-workout fat burning. With TRAINER's clinically dosed thermogenic blend, you can break down more body fat and promote burning up to 12% more calories up to 4 hours after your workout.*
X-FIT TRAINER is formulated by Maximum Human Performance (MHP), a global leader in performance nutrition innovations. Only X-FIT TRAINER contains these precise dosages of clinically suggested ingredients to support the best high intensity cross-training workouts and athletic performance.
CLINICALLY TESTED BANNED SUBSTANCE FREE*
*Does not contain substances banned by World Anti-Doping Agency (WADA).
X-FIT – XTREME FITNESS INTENSITY TRAINING
If you've been keeping your eyes open at the gym, you can see that a new era in training has emerged. Millions of fitness enthusiasts have taken a step away from traditional bodybuilding workouts where Monday is "national chest day" and instead embraced a new training philosophy – intense, fast and efficient fully body workouts. The result? A lean, muscular, well-conditioned body in less time!
Kettlebells, high intensity cross-training, boot camp – whichever style of extreme training you use, they all have a similar focus: Exercise consistently, keep the intensity high, vary your workouts, rest less between sets and push your body to the limit. That's what it means to train X-FIT style – Xtreme Fitness Intensity Training.
Training like this produces unique physical challenges. For instance, with higher intensity sets and less time resting between them, your body must overcome increased lactic acid pooling, higher cortisol levels and overall systemic fatigue. Fail to address these concerns and you'll be in a world of hurt – suffering from burnout, chronic fatigue, loss of muscle mass and strength, diminishing performances and even injury.
Now you can maximize your hard training results and conquer the challenges of high intensity cross-training with MHP's exclusive clinically dosed X-FIT TRAINER pre-workout formula – formulated specifically for the way YOU train. TRAINER is the only pre-workout supplement that combines clinical dosages of select active ingredients suggested in research studies to promote energy, performance, recovery and muscle building.*
BOOST MUSCULAR ENDURANCE
The unique challenges presented by high-intensity, fast paced workouts require specific supplementation to address muscular fatigue. Training without long rest periods between sets increases lactic acid buildup in the muscles, which hampers performance by causing premature muscular failure. If you are able to reduce lactate accumulations and speed clearing of this metabolic by-product, you will be able to train harder and longer. This will promote greater strength and muscle gains.*
A number of studies suggest that increasing muscle carnosine levels may improve your ability to buffer lactic acid. Stellingwerff et al. (2011) provided evidence that a 3.2-g dose of beta-alanine may increase muscle carnosine levels up to 35% and boost exercise performance more quickly than a lower dose.*
LOWER CORTISOL LEVELS
Training at extremely high intensity also causes systemic hormonal changes that must be addressed for long-term success. For instance, this type of exercise causes excessive release of cortisol, a stress hormone that is catabolic. Cortisol has a place in extreme training because it increases blood sugar levels through a process known as gluconeogenesis, which provides short-term boosts in physical work capacity. This important hormone is involved in the classic "fight or flight" mechanism that allows for short bursts of energy that were required by our caveman ancestors to adapt to life-threatening situations.
The problem is that on a chronic, ongoing basis, cortisol is very catabolic – which means it reduces muscle tissue, increases fat deposition and suppresses the immune system. Obviously, these aren't the results you're looking for from your CrossFit, P90X or other extreme workout program.
A new research suggested compound called CortiFit has been surmised to promote healthy cortisol levels.* In a study by Auddy et al. (2008), 125 mg. of this adaptogen, when taken twice daily (250 mg. total daily dosage) helped support healthy cortisol levels.*
ENERGIZE YOUR WORKOUT
Engaging in high intensity cross-training workouts requires sufficient energy and focus to get results. X-FIT TRAINER addresses both the physical and mental challenges of HICT, and includes ingredients to boost energy for your workout and help enhance mental focus.* CortiFit is one of the most unique energizing compounds available today. This patented, high-potency adaptogenic extract has been suggested to increase energy levels up to 79% in clinical research (Auddy, et al., 2008).* It also has been suggested to provide other benefits, including improvements in sleep quality. Also of critical importance is its ability to support your adrenal glands, which provides synergistic energizing effect when used in combination with caffeine and other energizing botanicals.*
Aside from CortiFit, one of the most studied and safest energizing compounds is caffeine. In his review of the ergogenic effects of caffeine, Graham (2001) refers to studies suggesting that doses in the range of 250 mg. may boost workout performance.* Caffeine in such doses improves the metabolic rate, which burns calories and provides systemic energy for increased physical activity. How caffeine does this is not entirely clear, though it's theorized that it may increase alertness or the recruitment of muscle fibers, or reduce perceived exertion.
Combining caffeine with CortiFit – plus other ergogenic energizing and focus compounds such as green tea extract, raspberry ketone and ilex paraguariensis leaf extract – is what makes TRAINER best targeted for HICT. This combination is a novel and highly effective means to increase energy levels while improving mental focus and maximizing intensity. The new X-FIT TRAINER pre-workout is the first supplement to combine these two ergogenics into one powerful energizing supplement.*
NITRIC OXIDE-SUSTAINING AGENTS (NOSA)
Increased production of nitric oxide for greater muscle-building and performance enhancing effects requires not just NO supplementation, but also sustaining the nitric oxide for greater benefits over longer periods of time. To address this issue, MHP scientists created Nitric Oxide-Sustaining Agents (NOSA).
Fortunately, there are nutritional interventions that can alleviate or prevent DOMS and enhance the results you obtain from HICT. Clinical research suggests that supplementation with HICA (alpha-hydroxyisocaproic acid) can cause dramatic reductions in DOMS, as well as a supporting increases in lean body mass.* HICA is a naturally occurring amino acid derivative that is believed to work by stimulating muscle protein synthesis (anabolism) and reducing muscle protein breakdown (catabolism). HICA supplementation has been suggested in research to reduce DOMS, plus a positive impact on body composition, improved muscle mass and enhanced physical performance for athletes.*
A 2010 study by Antti A Mero, et al., that was published in the Journal of the International Society of Sports Nutrition also found that HICA caused a significant reduction in DOMS among hard training athletes. Subjects in the double-blind study were given 1,500 mg. of HICA daily for four weeks (divided into three equal 500 mg. doses), during which they cross-trained 4-6 times per week. At the conclusion of the testing period, the subjects reported greatly reduced whole body DOMS symptoms, thereby helping to prevent reductions in exercise intensity.*
As if a reduction in muscle soreness wasn't enough, researchers also discovered that subjects experienced a significant increase in lean body mass (muscle) and bodyweight, without any increase in fat mass. They also supported physical performance as a consequence of decreased DOMS and improved muscle mass.*
INCREASE STRENGTH, BUILD MUSCLE
Creatine is perhaps the most studied of all performance promoting supplements. This compound is a muscular fuel that helps regenerate the ATP-PC energy cycle within muscle tissue. The greater the amount of phosphocreatine (PC) available, the greater the capacity for muscle performance. In a review of 22 scientific studies on creatine monohydrate's effect on one-rep maximum strength in the bench press by Rawson and Volek (2003), a 5 gram dosage was calculated to promote an average 14% increase in strength.* A similar dosage was show by Engelhardt et al. (1998) to boost power output by 18%. A gram of creatine here or there isn't enough for the high-intensity cross-training athlete. He'll need a pre-workout formula with well over 3 grams in order to achieve these kind of performance gains within a reasonable time frame.*
High intensity training necessitates rapid infusions of creatine to boost the PC levels and speed muscular energy regeneration.* This will enhance the ability to maintain longer workouts, which will result in greater strength, power and improvements in lean muscle mass.* Creatine can be loaded to support even greater gains in strength.*
TORCH CALORIES, BURN FAT
Aside from its suggested energizing and performance promoting powers, natural caffeine has significant calorie burning effects.* Research by Dulloo et al. (1989) suggests that 250 mg. doses of caffeine increased metabolic rate at rest by up to 12%. Studies also suggest that this substantially increased caloric burn may last for up to four hours after ingestion.* Researchers theorize that because of this boost in metabolism, consistent use of caffeine as an ergogenic aid may support long-term fat loss.*
X-FIT TRAINER CLINICALLY DOSED PRE-WORKOUT FORMULA
Only MHP's X-FIT TRAINER pre-workout formula is scientifically designed to address all the highly specific needs for high-intensity cross-training. This science-backed formula will help you maximize training energy, boost lactic acid buffering, reduce cortisol levels, increase strength and muscle mass and torch calories.* TRAINER contains the precise combination of clinical dosages of beta-alanine, creatine, caffeine and the proprietary adaptogenic compound CortiFit.*
When it comes to high-intensity exercise, a typical pre-workout supplement just won't do. To push your body to the extreme and enjoy maximum performance gains, you need X-FIT TRAINER!
To help maximize results, X-Fit Power works best when combined with X-Fit Power after your workout!