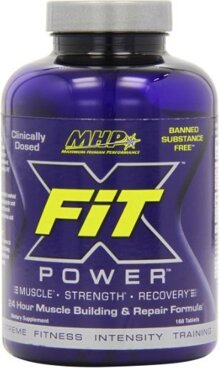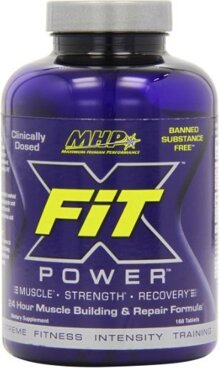 X-FIT POWER24-Hour Muscle Building & Repair Technology (Patent-Pending)
YOUR WORKOUT IS OVER… NOW WHAT?
Now You've Got the POWER to Build, Repair and Be Strong for Every Workout! Your quest for a great body and improved performance doesn't stop when you leave the gym. Yes, training hard and getting in a killer workout is critical, but if you don't recover in time for your next session you're not going to reach your maximum potential. To be your best, every workout has to be great – and that's only possible if your body is fresh and fully recovered.
If you frequently perform fast-paced, high-intensity cross-training workouts, you may find that delayed onset muscle soreness (DOMS), lagging recovery and muscle catabolism can prevent you from making your best possible gains in lean muscle mass, strength and overall performance. With new clinically dosed, patent-pending X-FIT POWER, now you have the POWER to do something about it!
Stop DOMS and Recover Faster: In clinical studies, athletes supplementing with DL-α-hydroxy-isocaproic acid (HICA) in the same dose as provided by POWER reported a marked reduction in delayed onset muscle soreness (DOMS). In some subjects, DOMS symptoms vanished completely. HICA is a naturally occurring amino acid derivative.
Gain More Lean Muscle: Studies also suggest that the same dose of HICA provided by POWER can produce greater gains in lean (muscle) mass from training.
Up to 42% More Testosterone in Just 12 Days: In a clinical study, a remarkable 87% of subjects taking the same dose of D-aspartic acid (DAA) provided by POWER increased their testosterone level by an average of 42% after only 12 days of supplementation. POWER uses free DAA, the same form used in clinical research. DAA is a naturally occurring amino acid.
Only POWER contains clinical doses of both HICA and DAA.
CLINICALLY TESTED BANNED SUBSTANCE FREE*
The fastest growing segment in the fitness industry is "high intensity cross-training," or HICT. Many of today's most popular full body workout programs utilize the principles of HICT.
In its simplest sense, the term HICT refers to any type of workout program involving more than one type of exercise, most commonly of the resistance and cardiovascular (i.e., aerobic) variety. HICT is the performance of cross-training in a high intensity fashion. The cardinal features of HICT are listed below:
HICT is fast-paced. The intensity is kept high by resting only briefly if at all during workouts. Training sessions are typically less than 45 minutes in duration.
HICT is strictly progressive. High intensity cross-training follows a simple principle: As your fitness improves, you must increase the difficulty. This means performing more reps, increasing the resistance, reducing rest periods, speeding the workout time, increasing the velocity of movement and so on. The specialized training facilities where this type of group session is taught typically structure their workouts to be increasingly progressive.
HICT is "functional." This type of training makes use of exercises that more closely mimic physical tasks of daily life.
HICT is variable. The fourth key feature of HICT is that the workouts vary from day to day, often significantly. This allows you to stimulate your muscles without having to constantly increase the workload.
While the benefits of HICT are widely celebrated - including fat loss and rapid gains in muscle strength, stamina and cardiovascular fitness – HICT creates unique physical challenges that must be addressed for long-term success. These issues are rarely mentioned by HICT practitioners, often because they aren't aware of the issues themselves.
For starters, this type of training is intense by design. In order to cause the improvements in conditioning and body composition that are desirable, the workouts must be conducted in a highly challenging manner. The typical group session requires class students to perform different workouts every training day to keep their mind and body fresh and constantly adapting. These sessions include Olympic lifting, powerlifting, bodyweight and plyometric techniques and more.
The problem is, this type of systemic hardcore training causes the body to undergo tremendous stresses. If these challenges aren't met, progress eventually comes to a screeching halt and the body will eventually regress - not the desired intent. This can lead to burnout, injury and eventual cessation of the program of choice. In the end, you'll be right back where you started. In order to avoid such dire straights, you have to look at the physical demands of HICT and address each one with precise nutrient intervention to ensure long-term success.
TOO SORE TO EXERCISE?
One of the main issues of HICT that must be addressed is delayed onset muscle soreness (DOMS). If you've ever had a kick-ass workout and then felt like you couldn't move the next few days, you know exactly what DOMS is.
Delayed onset muscle soreness is a result of damage to muscle cells and other tissues, as well as the accumulation of waste products from muscle breakdown. DOMS occurs as a result primarily of the eccentric (lowering) part of each repetition of a given exercise because there is more strain on the muscle tissue than during the lifting phase. Explosive exercises result in greater soreness because of the increased eccentric contractions that occur.
This results in micro-trauma and damage to muscle sells, which leads to extended soreness. Additional symptoms include stiffness, inflammation, decreased strength, reduced range of motion and swelling. Soreness usually increases in intensity from the first 24 hours after exercise and peaks from at anywhere from 48 to 72 hours. Without any outside intervention, DOMS typically subsides after five to 7 days.
The problem with DOMS is that it has a cumulative degenerative effect on exercise performance. For instance, after an exhaustive HICT workout, your body needs to rest. However, if you're following the typical three-to-five days per week schedule of high intensity training, there's no time to relax – you have to get to the gym for your next session! In order to keep your body moving optimally you have to address DOMS.
NITRIC OXIDE-SUSTAINING AGENTS (NOSA)
Increased production of nitric oxide for greater muscle-building and performance enhancing effects requires not just NO supplementation, but also sustaining the nitric oxide for greater benefits over longer periods of time. To address this issue, MHP scientists created Nitric Oxide-Sustaining Agents (NOSA).
Fortunately, there are nutritional interventions that can alleviate or prevent DOMS and enhance the results you obtain from HICT. Clinical research shows that supplementation with HICA (alpha-hydroxyisocaproic acid) can cause dramatic reductions in DOMS, as well as a measurable increase in lean body mass. HICA is a naturally occurring amino acid derivative that is believed to work by stimulating muscle protein synthesis (anabolism) and reducing muscle protein breakdown (catabolism). HICA supplementation has been shown in research to reduce DOMS, plus a positive impact on body composition, improved muscle mass and enhanced physical performance for athletes.
A 2010 study by Antti A Mero, et al., that was published in the Journal of the International Society of Sports Nutrition also found that HICA caused a significant reduction in DOMS among hard training athletes. Subjects in the double-blind study were given 1,500 mg. of HICA daily for four weeks (divided into three equal 500 mg. doses), during which they cross-trained 4-6 times per week. At the conclusion of the testing period, the subjects reported greatly reduced whole body DOMS symptoms, thereby helping to prevent reductions in exercise intensity.
As if a reduction in muscle soreness wasn't enough, researchers also discovered that subjects experienced a significant increase in lean body mass (muscle) and bodyweight, without any increase in fat mass. They also exhibited an improvement in physical performance as a consequence of decreased DOMS and improved muscle mass.
GOT TESTOSTERONE?
Training may take place in the gym, but muscle building and recovery occurs the other 23 hours of the day when you're outside the gym and at rest. The success of these processes is determined to a large extent by the availability of the anabolic hormone testosterone. It is the most potent muscle building hormone. Its presence is crucial for growth and maintenance of muscle mass and strength, as well as increased bone density and rigidity. It is also necessary for overall health and well-being. Testosterone release increases significantly with the start of puberty and peaks in the early to mid-20s. It then begins a slow decline for the remainder of adulthood. Without enough testosterone in your system, the beneficial effects of HICT will be delayed or greatly reduced.
One of the issues with HICT is that continual practice of intense physical activity can increase levels of cortisol, a catabolic hormone that antagonizes (counteracts) testosterone. This is especially the case if you aren't taking enough time to rest between workouts, or you aren't consuming sufficient calories. Chronically elevated cortisol may have a negative effect on the body's anabolic environment. Without nutritional intervention to increase testosterone levels in the system, the stress of training will continue to drive test levels down, creating a less favorable testosterone-to-cortisol ratio and thereby greatly reducing the benefits of intense exercise.
Fortunately, this is where a powerful testosterone booster called DAA (D-aspartic acid) comes into the picture. D-aspartic acid is a naturraly occuring amino acid. Clinical research by Enza Topo, et al. published in Reproductive Biology and Endocrinology showed that 3 grams per day of DAA induced an incredible 42% increase in testosterone release in just 12 days.
THE "POWER" OF HICA AND DAA
In order to address the unique challenges of delayed onset muscle soreness and the need for increased testosterone for enhanced physical adaptation, MHP product researchers studied the clicinal results of HICA and DAA studies. As a result of thier investigations and formulations, MHP created the new X-FIT POWER Muscle Building & Repair Formula, designed specifically for HICT. POWER contains a patent-pending combination of the clinical doses of both HICA and DAA.
This potent combination of HICA and DAA makes POWER the only product available that effectively reduces DOMS and increases testosterone and lean body mass. Using POWER three times daily can results in a dramatic decrease in DOMS and a significant improvement in daily HICT exercise performance. In addition, POWER will promote a powerful increase in testosterone levels quickly, as evidenced by the 42% increase in just 12 days as verified in clinical research.
To get the most out of your HICT training, your body has to be able to quickly adapt to the tremendous physical challenges of this intense exercise. That means a requirement to reduce DOMS, which will allow you to return to the gym each day ready to push yourself harder, and an increase in testosterone, which will allow you to build muscle and strength and keep your gains coming. Sounds like the perfect winning combination, right?
To help maximize results, X-Fit Power works best when combined with X-Fit Trainer before your workout!