Quick Links to Best Prices Price History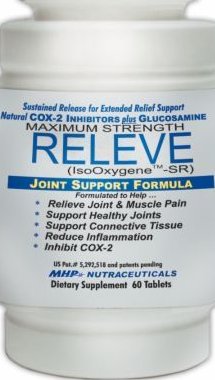 Stop Joint Pain In Its Tracks!
For Temporary Relief of Minor Pain and Inflammation of Joints and Muscles Due to Exercise*
Long Lasting Support for Healthy Joints and Connective Tissue*
Temporarily Relieves Age Related Joint Pain and Inflammation*
This high potency joint support formula contains a patent pending combination of PGE-2 inhibitor botanicals along with Glucosamine Sulfate. Releve's proprietary formulation is designed to help relieve minor joint and muscle pain, reduce discomfort, build strong joints and cartilage, and strengthen bones. Releve's patented sustained release delivery system allows for both immediate and long-term action.*
There are few things more discomforting than lying in bed with aching sore muscles after a grueling workout or having to limit your activity level due to achy joints. Strong enough for the most intense strength athlete, but made for all people – from bodybuilders to baby-boomers and beyond – Releve allows you to breathe a sigh of relief as it goes to work directly on your muscles and joints, bringing back soothing comfort once again!*
The COX-2 Problem
Over the past 10 years, the COX-2 paradigm has emerged as one of the most important biochemical systems of the 21 century, and the COX-2 enzyme has become a primary model in helping to shed some light on our understanding of diverse pathologies such as cancer, osteoporosis, heart disease and Alzheimer's.
Most notably, however, is the COX-2 relationship with physical activity. You see, training and general physical activity can place large amounts of stress on joints and the musculoskeletal system, to which the body responds by producing the COX-2 enzyme. These COX-2 enzymes are responsible for making a destructive chemical called prostaglandin E-2 (PGE-2), which in turn, causes inflammation, joint and connective tissue deterioration, and pain within your body.
Releve's patent pending formula literally blocks the COX-2 enzyme from causing discomfort to your body, allowing you to move freely in complete comfort! Don't let joint pain or muscle soreness limit your potential. If you're looking to make serious progress in your training without debilitating soreness, or if you'd simply like to walk without the worry. Try Releve!*