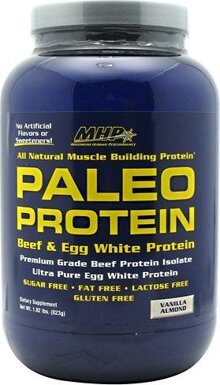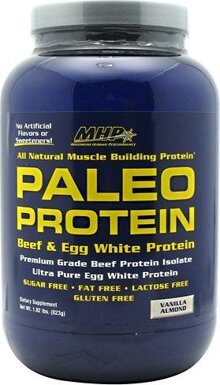 Paleo Protein
HPhas a brand new protein powder on the market. Going by the name 'Paleo Protein' this product is a first attempt by MHP to engage with the paleo nutrition lifestyle that is sweeping the country. Paleo dieters everywhere are saying goodbye to processed garbage in their diets and returning to foods that nature intended for us to eat.
Most protein powders on the market are utilizing milk protein, or its components whey and casein. This presents a problem for paleo athletes because protein supplements are one of the fundamental supplements most athletes use to supplement their dietary protein needs.
Naturally,news of a paleo targeted protein product hitting the market should be exciting news to paleo dieters everywhere. This product is not perfect, it has some flaws and includes some processed thickening agents, but it is a modest first attempt at a paleo-friendly protein product.
Ingredient Analysis
The product utilizes two very paleo-friendly protein sources, a blend of hydrolyzed beef protein isolate and high grade egg albumin. Beef Protein Isolate is a somewhat inferior protein source, with a biological value index score of only 74, and a relatively weak amino acid profile. Egg Albumin however is an incredible protein source, with a BV score of 94, and an amino acid profile that rivals whey.
Ofother note to paleo-dieters is the additives included in the product.It includes several corn-derived and highly processed thickeningagents that make it not strictly paleo compliant.
Maltodextrinis included as a carbohydrate source, and this ingredient is almost wholly corn-derived in the United States. The thickening agents included, Cellulose gum, Xanthan gum, and Carrageenan are all highly processed and are derived from sources such as corn, dairy, and soy that are not paleo-friendly.
Ultimately though, there are few paleo friendly substitutes for these thickening agents on the market today. The product at least attempts to be paleo-friendly with its protein sources, but there is still room to improve. Hopefully in future revisions to the product, MHP will come out with a product that stays more true to the paleo label by which it identifies.
Directions For Use
Consume as directed to supplement your daily protein needs. Protein is particularly useful and convenient to take before and after your workout to optimize muscle protein synthesis. That doesn't mean buying into bro-science that says if you don't take your protein shake within 5 minutes of your workout ending you're going to start losing muscle. But your body needs some protein within a couple of hours before and after your workouts to maximize your gains.
Side Effects of Protein Supplements
Protein powders are generally well tolerated and are gluten-free. Everybody is unique though so you should talk to your doctor before starting a high protein diet or consuming protein supplements. On a good note, due to the utilization of egg and beef protein sources, this product will not contain any gluten like many milk, casein, and whey products do. This means no stomach discomfort for glutenintolerant people.
WhereTo Buy
Buy your supplements online. The prices are dramatically better than those in brick-and-mortar stores. On this page you'll see a price comparison of the websites that sell this product so that you can pick out the cheapest price and get the most bang for your buck.