Quick Links to Best Prices Price History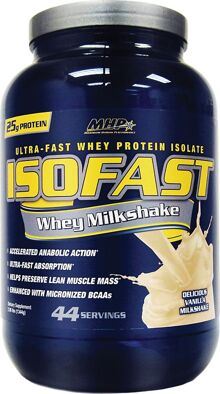 MHP ISOFast Whey Milkshake
Swipe left/right to reveal product information
Upgrade Your Whey
IsoFast introduces the world's first Micronparticulated Whey Protein Isolate and a new advanced Biohydrolysis Technology for amazingly fast anabolic muscle activation. In the development of IsoFast, MHP scientists achieved their goal in delivering the great taste of whey protein isolate at the speed of hydrolyzed whey protein with advanced Micronparticulation and Biohydrolyzed Whey Protein Isolate Technologies.*
Accelerated Anabolic Action*
Ultra-Fast Absorption*
Helps Preserve Lean Muscle Mass*
Enhanced with Micronized BCAAs*
Micronparticulation Technology
The micronization of purified WPI in IsoFast reduces protein particle size to less than 1/5th the size of a typical protein particle, increasing surface area 5x for greater enzyme concentration and activation.*
Biohydrolysis Technology
MHP's proprietary Biohydrolase is designed to mimic the hydrolysis process inside the body with a customized blend of protein specific hydrolyzing enzymes. Biohydrolase "hydrolyzes" WPI in the digestive system and rapidly cleaves off the di-peptides, tri-peptides and free form amino acids so they can be rapidly absorbed in the intestines.*
The Science Behind IsoFast
New Advanced Technologies Supercharge Your Whey
IsoFast is the world's first micronized whey protein isolate with Biohydrolysis Technology for the fastest 25 gram protein infusion!*
IsoFast is the fastest, purest and most powerful whey protein ever created. This revolutionary Biohydrolyzed Whey Protein Isolate is scientifically formulated for elite bodybuilders and athletes engaged in intense training programs to help promote muscle building, inhibit catabolism and improve recovery for maximum results. IsoFast is the only protein in the world to utilize micronparticulated whey protein isolate with Biohydrolase, a new advanced Biohydrolysis Technology, for amazingly fast anabolic muscle building activation.*
Whey is the protein of choice for many bodybuilders and athletes because of its fast rate of absorption and ability to deliver high levels of BCAAs and essential amino acids to muscle tissue. Elite bodybuilders and athletes prefer to use Whey Protein Isolate (WPI), which undergoes a triple microfiltration process to remove the fat, lactose, cholesterol and impurities to provide a very pure, concentrated protein. IsoFast goes even further than the industry standard triple microfiltration by adding two additional steps and technologies to its processing – Micronparticulation and Biohydrolysis. These two advanced technologies allow IsoFast to function like a Hydrolyzed Whey Protein (WPH) inside the body. Hydrolyzed whey protein offers additional muscle building benefits, because the hydrolysis process breaks down the WPI into di- and tri-peptides for faster absorption.*
In the development of IsoFast, MHP scientists achieved their goal in delivering the great taste of WPI with the benefits of WPH by utilizing these advanced Micronparticulation and Biohydrolysis Technologies.*
Advanced Micronparticulation and Biohydrolysis Technologies
Micronparticulation
Reduces Particle Size for 5x Greater Enzyme Concentration and Activation
IsoFast is the world's first micronparticulated whey protein isolate. The micronization of purified whey protein isolate reduces protein particle size. By making the particle less than 1/5th the size of a typical protein particle, the surface area is increased by 5x, allowing greater enzyme concentration and activation on each protein particle for a significantly faster and greater release of free amino acids.*
Biohydrolysis
Cleaves Protein into Di- and Tri-Peptides for Immediate Absorption and Anabolic Action
While micronization will greatly increase the surface area of the protein, MHP scientists took protein supplementation a step further with a proprietary Biohydrolysis Technology. This technology is designed to mimic the hydrolysis process of WPH inside your body with Biohydrolase, a custom designed enzyme system that exhibits exo-peptidase and endo-peptidase activities. Biohydrolase effectively "hydrolyzes" WPI and rapidly cleaves off the di-peptides, tri-peptides and free amino acids so they can be absorbed quickly in the intestines and delivered to muscle tissue.*
MHP IsoFast Frequently Asked Questions
Why should I choose IsoFast over my regular whey protein?
IsoFast is no regular whey. We use only the purest concentrated form of whey protein isolate for maximal utilization after a strenuous activity. The absorption rates of our competitors products are no match for the amazing absorption rate of IsoFast.*
What is the difference between whey protein isolate and whey protein concentrate
The isolate form of whey protein is the most refined and pure form of whey protein, and contains between 90 to 95% protein, with no or, only trace amounts of fat and lactose. A concentrate is typically at 80% protein content and can contain lactose, fat and minerals.