Warning: This product is not currently available at any store.
Click the button above and PricePlow will email you when the first store has it in stock!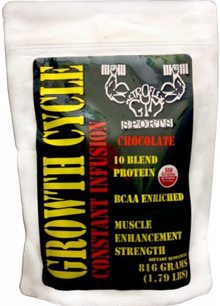 Metroflex Sports Growth Cycle
There are a few differences amongst types of protein:
Protein Digestibility/Assimilation - That is, how much of the protein your body can actually use to build/maintain muscle tissue and support overall health.
Amino Acid Profile - There are 22 total amino acids, 8 of which are essential and must be ingested through the diet. Protein sources have different amounts and types of amino acids. Animal protein (whey, casein, eggs, etc.) contains an adequate amount of all amino acids essential for building tissue and maintaining life.*
Rate of Digestion - This is the rate at which the body can break down and absorb the type of protein. Every type of protein is broken down into individual amino acids, where it is then ready to be utilized in the blood stream.
Casein and Egg protein have distinct characteristics to be taken advantage of. Egg protein is digested at a medium pace compared to whey and casein; yielding a digestion rate of 2-3 hours, where plasma amino acid content is achieve for up to 5-6 hours thereafter before taping off. Egg is high in a variety of non-essential amino acids such as glycine and alanine and has been considered the ideal protein source for decades. Casein protein is the slowest digesting protein as it forms a gel in the stomach where it results in an amino acid trickle into the blood stream.
Additional Amino Acids: The Big 4 You Don't Want To Miss!
Of the 22 amino acids required in the diet, certain amino acids rise on the list of having more desirable traits than others. Of those, leucine, isoleucine, valine and glutamine are among the few on top and should be included in an optimal protein beverage.
Branched Chained amino acids consist of Isoleucine, Leucine and Valine. These three amino acids have gotten more press in the media today than basically any other type of amino acid combination. The reason is simple: they correlate to increased muscle recovery and growth, increased fat loss, increased strength, more energy, and a higher anabolic environment in the body among other things*.
Why is obtaining these separately important if they are already present in the protein sources? Research suggests ingesting additional BCAAs to have astonishing benefits.
They are free form amino acids and get absorbed much more quickly than if they were part of a protein source. The body has to break down protein sources to yield the BCAAs and total assimilation and absorption may be comprised when obtaining the benefits BCAA's has to offer is desired.
Besides including the best sources types of protein sources and key amino acids, there are a couple types of protein fractions that should be utilized to obtain the ideal protein supplement: colostrum and lactoferrin.
Colostrum is a special type of milk protein that is only available for a short time after the calf is born. It is unique in the sense that it has a super concentration of antibodies, antioxidants, immunoglobulins, growth factors, vitamins, and minerals. In regard to sports nutrition, it provides the following benefits:
Supporsts a significant increase in lean body mass compared to whey*
Promotes healthy immunity and decreased recovery time*
Supports serum IGF-1 levels.* Colostrum will naturally boost IGF-1*
Lactoferrin is a rare protein from cow's milk, totaling .2 grams per liter of milk. Similar to colostrum, it provides astonishing support for immunity health and is suggested as one of the most powerful immune-supporting compounds in nature.* With lactoferrin, one can expect:
Powerful antioxidant properties*
Supports good flora in the gut for healthy digestion*
Helps promote a healthy inflammatory response*
Conclusion: Putting It All Together
Without question, a specific variety of proteins, amino acids and specialty protein fractions are the best choice for creating the ultimate protein beverage for sports performance and health.