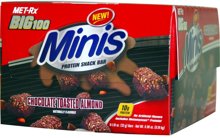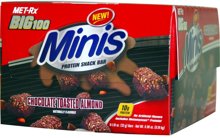 MET-Rx Minis
FUN SIZE!
SAME BIG TASTE!
Same name, flavors and taste profile as the Met-Rx Big 100 in a convenient 33-gram size! The perfect protein snack bar for when you're on the go.
We're talking about the Minis. They deliver a big delicious taste and a solid 10 grams of protein in a 33 gram bar that's just a bit more than bite size. It's the perfect size, petite and portable. When it comes to providing a sweet, satisfying treat that's full of protein and vitamins… think small and get yourself some MET-Rx Minis.
Includes METAMYOSYN Protein.
Available in Chocolate Toasted Almond and Super Cookie Crunch!
1/3 size - A Fulfilling Snack
10 grams of premium protein
140 calories or less
MET-RX IS FUEL FOR THE LEGIT STRONG.
There is a difference between looking big and being strong. True strength takes dedication.