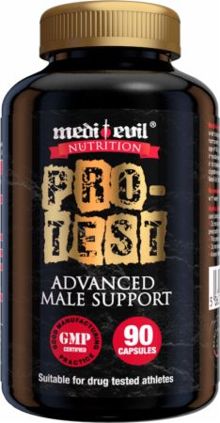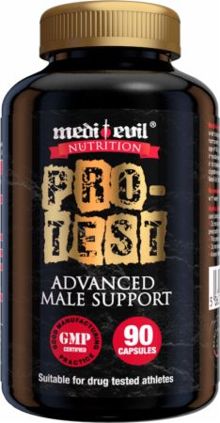 Pro-test - 90 caps
Herbal formula

Contains 45 servings

Includes Z-Extreme - Medi-Evil Nutrition Zinc, Magnesium and B6 compound

May help to reduce tiredness and fatigue1
What is Pro-Test?
Medi-Evil Nutrition Pro-Test is a state of the art Male support product. Pro-Test contains an innovative blend of Cordyceps Sinesis, Fenugreek and Beta-Ecdysterone in its signature Medi-Evil Nutrition Test Matrix.
Pro-Test goes further than any other Male support product by offering a true one of a kind product.
What is Z-Extreme?
Z-Extreme is Medi-Evil Nutrition's signature ZMA blend. ZMA is a natural mineral supplement made up of zinc, magnesium aspartate and vitamin B6. Zinc supports your immune system and muscles. Magnesium plays a role in metabolism and muscle health and helps manage sleep. B6 may boost energy. 1. Magnesium also contributes to a reduction of tiredness and fatigue.