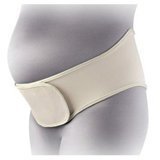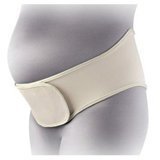 Moms agree-helps ease back pain
Offers maximum comfort for expectant moms
Provides gentle support throughout pregnancy
Recommended by healthcare professionals and moms worldwide.  An excellent gift for new moms.
Gently lifts and supports stomach
Moms report - reduces urinary frequency
Comfortable against the skin
Easy to wear, adjust and remove
Machine washable
Lightweight, breathable spandex for maximum comfort
Stretches to fit the natural curves of your body
Back panel provides extra support
Adjustable velcro closure for easy fit
Also look for the Medela Postpartum Support to provide you with gentle abdominal supports after delivery or surgery.
This is a personal care item.  for hygienic reasons this cannot be returned once opened.
* These statements have not been evaluated by the Food and Drug Administration. This product is not intended to diagnose, treat, cure, or prevent any disease.