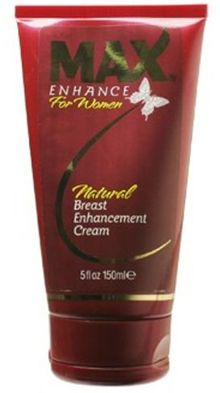 MD Science Labs MAX Enhance for Women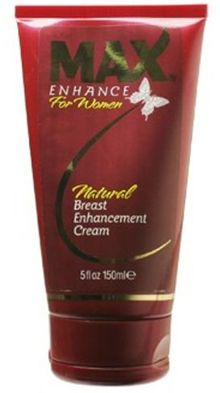 MD Science Labs MAX Enhance for Women
MAX Enhance for Women Description from MD SCIENCE LABS
Introducing a revolutionary new cream designed to promote firmer breasts and increase cup size...

MAX Enhance Breast Enhancement Cream, with genuine Pueraria Mirifica extract, encourages breast tissue development and elongates and expands the duct network to the nipple.The expansion of fatty tissue and ligaments around the breast help to provide shape and support. Many women tested using this incomparable formula have witnessed incredible results - increased toning, firming, and a more youthful shape. In just a few short weeks, women reported feeling more vivacious and confident with their revitalized appearance.

What is Pueraria Mirifica?
A climbing vine found only in Thailand, thisamazing plant has been used for over a hundred years for its rejuvenating qualities. Richinphytoestrogens, including Miroestrol, Pueraria has demonstrated in numerous studies its ability to:
-firm breasts
-make skin more youthful
-nourish skin around the breasts
-A Natural Alternative...

For a fuller, firmer, more youthful bustline, hormonal balance is the first step every woman should take. Unknown to many women, hormone imbalances actually inhibit bust development, as well as compound problems associated withaging and menopause. Daily use of, with a regimen of a healthful diet, exercise, and increased calcium, can give many women measurable results. Simply apply a small amount of cream (enough to massage into the entire breast)and massage using a circular motion, focusing on the outer and bottom areas, for 3-5 minutes until fully absorbed (avoiding the nipples*). With MAXEnhance, you could see noticeable results injust a few weeks!
Ingredients:
Water, Pueraria Miricia root extract, Sweet Almond Oil, Glycerol Stearate, Glycerine, Caprylic/capric triglyceride, Cetyl alcohol, Sodium Stearyl Lactylate, Dimethicone, Bees Wax, Diazolidinyl Urea, Methylparaben, Propylparaben, Propylene Glycol, Helianthus Annuss Oil, Fragrance, Tocopherol, Tetrasodium EDTA, Butyrospermum Parkii, Retinyl Palmitate, Allantoin, Citric Acid.
Manufacturer's Directions
For best results, massage a half teaspoon of cream into each breast until completely absorbed. Use twice daily for a minimum of three months. To maintain desired results, use three to five times a week.
Manufacturer's Disclaimer
For external use only. Not for use by pregnant or lactating women. If you are taking a prescription medication, or have a medical condition, consult a physician before use. If a rash or skin irritation develops, discontinue use. Not intended for use by persons under the age of 18.