Warning: This product is not currently available at any store.
Click the button above and PricePlow will email you when the first store has it in stock!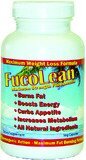 Maximum Nutrients FucoLean
Maximum Nutrients announces the release
of the ultimate in weight loss support technology, FucoLean.* The newest in our line of premium supplements, FucoLean brings a revolution in weight loss promoting formulas with its exclusive blend of ingredients.* FucoLean contains Fucoxanthin, Spirulina, Green Tea Extract, Citrus Aurantium and Pomegranate Extract. All these ingredients provide a wealth of benefits individually and become a powerhouse of weight loss support when using Fucolean as part of a diet and exercise program!*
Fucoxanthin is derived from Wakame, a type of brown seaweed, found primarily in the Sea of Japan. Though fucoxanthin is found in other ocean sources such as red seaweed, several types of algae and some species of shellfish, it is most abundant in the brown seaweed, Wakame. The pure extract of fucoxanthin found in FucoLean is very powerful. One thing is certain: Maximum Nutrients Researchers feel Fucoxanthin may be one of the most unique and effective weight loss promoting compounds yet discovered.*
Fucoxanthin targets a specific type of fat cell known as 'white adipose tissue' (WAT).* Fucoxanthin stimulates a type of 'uncoupled protein' (UPC1) that breaks down white adipose fat by increasing the metabolic rate within the fat cell itself.* The second way fucoxanthin attacks fat is by producing a compound in the liver called docosahexaenoic acid (DHA), an omega-3 oil.* There are several benefits to increased DHA.
What Else Makes It Work?
Spirulina is the ideal Muscle Food.* Spirulina is blue-green algae with a protein content that's 15 times that of red meat. Though Spirulina is not an appetite suppressant, it reduces food cravings by helping maintain blood sugar levels, already in normal range.* But, the most important benefit Spirulina adds to FucoLean is the reduction of muscle wasting (catabolism).* A common problem with most diets is, along with losing fat; dieters experience muscle loss due to a lack of available protein. Protein beaks down into amino acids, which then nourish muscle tissue. Spirulina, which is the purest form of protein, (70%) provides a bioavailable background of all the essential amino acids needed to reduce muscle eating.*
Green Tea Extract has many awesome benefits. Green Tea Extract has been surmised to increase the body;s daily rate of burning calories (thermogenesis) by 35 percent without increasing heart rate.* A study published in the December 1999 American Journal of Clinical Nutrition found that "Green tea has thermogenic properties and promotes fat oxidation beyond that explained by its caffeine content.* There are several other benefits in Green Tea Extract.
Citrus Aurantium increases metabolism.* Citrus Aurantium, or bitter orange, has demonstrated remarkably powerful thermogenic (fat-burning) activity.* Citrus aurantium increases the body's metabolic rate, the ability to burn calories, while producing minimum negative side effects on the central nervous system, or the cardiovascular system.* Citrus aurantium also support normal and non overactive appetite, plus it boosts energy and caloric expenditure.*
Pomegranate Extract is a powerful antioxidant. Pomegranate Extract contains powerful antioxidants that reduce fatty deposits from forming on the walls of arteries in the body while also supporting the reduction of fat.* The primary active ingredient in Pomegranate Extract is punicic acid, which has been suggested to reduce fat lipids and white adipose fat tissue.*