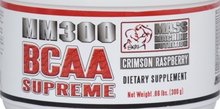 Mass Machine Nutrition MM300 BCAA SUPREME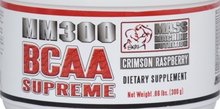 Mass Machine Nutrition MM300 BCAA SUPREME
CORNERSTONE OF RECOVERY
RECOVER FASTER FROM WORKOUTS*
INCREASE PROTEIN SYNTHESIS*
POTENT AMINO RATIO 3.5:2:1.5
MM300 BCAA SUPREME
Not all BCAA products are created equal and Mass Machine Nutrition's MM300 BCAA SUPREME is a perfect example of that. MM300 BCAA SUPREME is designed to boost anabolism and reduce catabolism for optimal performance during and after physical activity.*
To ensure you are making the most of your strenuous efforts and protecting your hard-earned muscle, we made sure all our Amino Acids are derived from highest quality sources to promote optimum bioavailability and absorption.*
To further increase MM300 BCAA SUPREME efficacy, we engineered a brilliant ratio of 3.5:2:1.5 designed to propel reparative nutrients to exercise-damaged muscles. This a ratio rarely seen in the supplement market.
RECOVER FASTER*
MM300 BCAA SUPREME was designed to play an important regulatory role in protein metabolism. This means you protect your hard-earned muscle while giving your body what it needs to repair muscle tissue even faster.*
REBUILD QUALITY MUSCLE*
Not only does MM300 BCAA SUPREME help reduce muscle catabolism but it also plays an integral role in promoting fat loss and increasing strength and fat-free mass!*
INCREDIBLE FLAVOR
The most precision engineered, highest quality ingredients will be your #1 priority when looking for the best results and building your supplement arsenal. What good is a quality supplement if you can't stand the taste and dread taking it one, or even multiple times a day? MM300 BCAA SUPREME made taste a top priority by creating a succulent Crimson Raspberry flavor. A taste so refreshing, you'll be anticipating the very moment you get to take your next serving!
WANT TO KNOW MORE?
...Check out
The Video
MM300
BCAA SUPREME

DESIGN

To ensure that the Amino Acids in Mass Machine Nutrition's MM300 BCAA SUPREME could be fully utilized for increased recovery and promote anabolism in the body, we added a little extra "muscle" in the formulation. Vitamin B6 works as a catalyst in the body to support and utilize the Amino Acids helping to drive protein synthesis.*

To further increase the effectiveness of the Amino Acid blend, we added alpha hydroxy leucine calcium salt (HICA) as a more potent bioequivalent of Leucine to further up-regulate the use of Amino Acids in muscular repair.* This is another unique quality of MM300 BCAA SUPREME that you don't readily find throughout the supplement market.

MM300 BCAA SUPREME is included in Skip La Cour's Mass Machine Nutrition SUPREME line and is a much more complex version of any ordinary BCAA product on the market.

MM300 BCAA SUPREME gives you the EDGE over the other people training hard in the gym with a powerful and effective BCAA they haven't discovered. At least, not yet!
STAY UP-TO-DATE!
TRAINING
|
NUTRITION
|
MOTIVATION
|
SUPPLEMENTS
Do you have a question about training, nutrition, motivation, or supplements? Get them answered by Skip La Cour himself in his Skip La Cour Mass Machine Training" thread in the Forum section. CLICK HERE! You can also learn from the questions asked by others and from the articles, videos, podcasts, training routines, diets, and more posted on a continual basis.
You want to know more about Skip La Cour, Mass Machine Nutrition, what you need to know about proprietary blends, and how to make the most out of your supplement investment?
...Check out
The Video