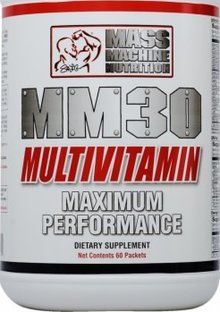 Mass Machine Nutrition MM30 Multivitamin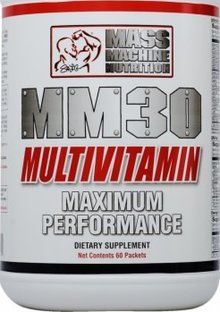 Mass Machine Nutrition MM30 Multivitamin
ESSENTIAL CELLULAR NUTRITION
OPTIMIZE PERFORMANCE*
REPAIR DAMAGED CELLS*
PROMOTE CIRCULATORY HEALTH*
MM30
MAXIMUM PERFORMANCE
MULTIVITAMIN
MM30 MAXIMUM PERFORMANCE MULTIVITAMIN ENSURES YOU ARE GETTING ALL OF THE NECESSARY NUTRIENTS YOU ARE PAYING FOR.
Most multivitamins are crammed with as many nutrients and minerals into each tablet as possible. By compacting and compressing all these ingredients into such a small tablet, they have effectively reduced the solubility of the multivitamin; Leaving you with little to no benefit and a lot of wasted money. With MM30, we decided to provide the most superior multivitamin around by keeping this solubility in mind. With seven pills per package, you cover your entire spectrum of vitamin and nutrient needs and are guaranteed to be utilizing all of those vitamins and nutrients. By providing increased absorption with a decreased price, MM30 is a multivitamin designed with you in mind!
BOOSTED ABSORPTION
MM30 Maximum Performance Multivitamin has added enzymes begin absorption process immediately within the stomach and small intestines. This ensures that you are getting the highest uptake of nutrients!
NO STONE UNTURNED
MM30 Maximum Performance Multivitamin was designed with the additions of DHA and EPA to promote healthy blood circulation and healthy cholesterol levels. MM30 strengthens your circulatory system and increases nutrient distribution!
WANT TO KNOW MORE?
. . . Check out
The Video
MM30 MULTIVITAMIN DESIGN
To run at peak performance and see your desired results faster, you need to utilize all performance factors in the body. Multivitamins may not seem as necessary as other supplements but they are absolutely essential to ensure every nutrient and supplement you put in your body is being used to their fullest by your cells. You don't want to take supplements only to utilize a very small portion of them. Take advantage of every penny you invest in yourself and run at optimal performance levels!
STAY UP-TO-DATE!
TRAINING | NUTRITION | MOTIVATION | SUPPLEMENTS
Do you have a question about training, nutrition, motivation, or supplements? Get them answered by Skip La Cour himself in his "Skip La Cour Mass Machine Training" thread in the Forum section. CLICK HERE! You can also learn from the questions asked by others and from the articles, videos, podcasts, training routines, diets, and more posted on a continual basis.
You want to know more about Skip La Cour, Mass Machine Nutrition, what you need to know about proprietary blends, and how to make the most out of your supplement investment?
. . . Check out
The Video