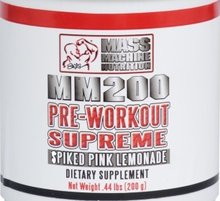 Mass Machine Nutrition MM200 Pre-Workout SUPREME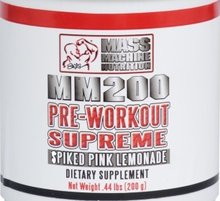 Mass Machine Nutrition MM200 Pre-Workout SUPREME
TAKE YOUR INTENSITY FURTHER!*
HEIGHTENED MENTAL FOCUS*
MUSCLE BLASTING PUMPS*
INCREASED STAMINA & PERFORMANCE*
MM200 PRE-WORKOUT SUPREME
Mass Machine Nutrition has taken its Pre-Workout quality, standards, and effectiveness to an entirely new level!
Whether it's increased size and strength or improved speed and endurance that you're after, we know you deserve a complete pre-workout that can take your training to the next level.*
Mass Machine Nutrition has created a powerful formula capable of catering to an athlete's demands by providing the tools needed to push past previous benchmarks.
Taken immediately prior training or strenuous exercise, MM200 Pre-Workout SUPREME is designed to support muscular endurance, muscular strength, mental acuity, aerobic respiration, and nitric oxide production.*
We also added taurine to the mix which acts as a pseudo-safety valve, preventing you from getting mentally over-stimulated and keeping you focused.* Taking a step further, we also incorporated alpha hydroxy leucine calcium salt (HICA) to maintain muscle integrity and muscle volume.
Mass Machine Nutrition MM200 Pre-Workout SUPREME's key ingredients support nitric oxide production, oxygen delivery, and working capacity, allowing for intensified muscle pump, vascularity and physical performance.*
On top of the physical benefits MM200 Pre-Workout SUPREME offers, we made sure to address the most important aspect of training: Mental Acuity.* To ensure you keep your head in the game and remain focused, we engineered a formula to help support extended workout performance and energy allowing you to work harder and longer to reach your goals.*
MM200 Pre-Workout SUPREME is included in Skip La Cour's Mass Machine Nutrition SUPREME line and is a much more complex version of any ordinary pre-workout product on the market.
We crafted a smooth, tangy Spiked Pink Lemonade flavor that will add a perk of refreshment!
MM200 Pre-Workout SUPREME will take you to a level higher than the other people training in the gym with a breakthrough unique pre-workout product they haven't discovered. At least, not yet!
WANT TO KNOW MORE?
. . . Check out
The Video
STAY UP-TO-DATE!
TRAINING | NUTRITION | MOTIVATION | SUPPLEMENTS
Do you have a question about training, nutrition, motivation, or supplements? Get them answered by Skip La Cour himself in his "Skip La Cour Mass Machine Training" thread in the Forum section. CLICK HERE! You can also learn from the questions asked by others and from the articles, videos, podcasts, training routines, diets, and more posted on a continual basis.
You want to know more about Skip La Cour, Mass Machine Nutrition, what you need to know about proprietary blends, and how to make the most out of your supplement investment?
. . . Check out
The Video