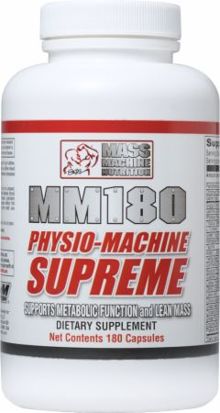 Mass Machine Nutrition MM180 Physio-Machine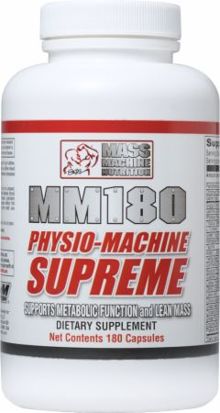 Mass Machine Nutrition MM180 Physio-Machine
THERMOGENIC TESTOSTERONE BOOSTER*
SUPPORT FAT BURNING*
HELP BUILD MUSCLE
SUPPORT ALREADY NORMAL ESTROGEN BALANCE*
MM180 PHYSIO-MACHINE SUPREME
MM180 PHYSIO-MACHINE SUPREME CAPSULES WILL INTENSIFY YOUR ABILITY TO BURN MORE FAT BY INCREASING THERMOGENESIS AND BY BOOSTING YOUR NATURAL TESTOSTERONE PRODUCTION*
MM180 PHYSIO-MACHINE SUPREME Capsules are in a league all by themselves. What better way to burn fat than to increase the thermogenic powerhouses of the body and also support healthy estrogen levels within a normal range? Estrogen and fat loss go hand-in-hand. Estrogen is one of the main contributing chemicals in the body that will cause you to retain fat. By stimulating the HPA Axis, you will help attack that stubborn, unflinching fat layer and kick up your natural testosterone production within a normal range safely.* Without the increase in testosterone, you have effectively removed one of the main contributors to fat loss that is rarely addressed and enhanced your recovery times and strength all at once!*
BURN FAT FAST*
MM180 PHYSIO-MACHINE SUPREME Capsules were designed in a way that will optimize the body's natural metabolic mechanisms that aid in adipose extraction and burn the most calories.*
SUPPORT TESTOSTERONE*
MM180 PHYSIO-MACHINE SUPREME Capsules will stimulate HPA Axis, promote your natural testosterone production and help support a already normal estrogen balance.*
WANT TO KNOW MORE?
...Check out
The Video
MM180
PHYSIO-MACHINE SUPREME

DESIGN

Fat burners have completely saturated the market. All you need to do is look around. The problem is that many of these so-called "fat burners" are loaded with nothing more than stimulant after stimulant in hopes that it has a slight change on your metabolism. In effect, all they do is increase your heart rate.*

With MM180 PHYSIO-MACHINE SUPREME Capsules, we've added a variety of non-stimulant ingredients to help breakdown and extract fat, a low dose of stimulants to boost your metabolic rate to an ideal, safe zone for excess thermogenesis.* We've also added an all-natural thyroid supporter to help support a healthy appetite level.* In addition to all of these benefits, we've added a safe, all natural testosterone boosting agent to help support a healthy estrogen level already within a normal range; one of the main contributing chemicals in the body that can cause you to retain fat.* By supporting the HPA Axis (Hypothalamus-Pituitary- Adrenal Cortex), MM180 PHYSIO-MACHINE SUPREME Capsules promote your natural production of testosterone within a normal range safely so that you can burn the fat and also build the muscle!*

That's what differentiates Skip La Cour's Mass Machine Nutrition from other supplement companies and makes MM180 PHYSIO-MACHINE SUPREME Capsules the highest quality and most effective product of its kind that you can invest in.*
STAY UP-TO-DATE!
TRAINING
|
NUTRITION
|
MOTIVATION
|
SUPPLEMENTS
Do you have a question about training, nutrition, motivation, or supplements? Get them answered by Skip La Cour himself in his Skip La Cour Mass Machine Training" thread in the Forum section. CLICK HERE! You can also learn from the questions asked by others and from the articles, videos, podcasts, training routines, diets, and more posted on a continual basis.
You want to know more about Skip La Cour, Mass Machine Nutrition, what you need to know about proprietary blends, and how to make the most out of your supplement investment?
...Check out
The Video