Warning: This product is not currently available at any store.
Click the button above and PricePlow will email you when the first store has it in stock!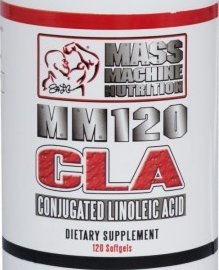 Mass Machine Nutrition MM120 CLA
SUPPORT HEALTHY BODY COMPOSITION
NON-STIMULANT THERMOGENIC
PROMOTE HEALTHY METABOLISM*
BOOST TESTOSTERONE*
MM120 CLA
CLA is an omega-6 fatty acid found naturally in meat and dairy, but not in significant amounts. Supplementing with Mass Machine Nutrition's MM120 CLA can help provide a significant impact on how the body utilizes and deposits fat by efficiently aiding in its metabolism.*
Through this increase in fat metabolism, MM120 CLA can help reduce body fat and increase lean mass.* In other words, MM120 CLA can help support lean body composition by utilizing the body's energy source demands from fat, rather than muscle!*
UNLOCK FAT BURNING POTENTIAL
Mass Machine Nutrition MM120 CLA is a non-stimulant fat metabolizer, making it especially useful for the stimulant-sensitive. MM120 CLA will aid in the support of a healthy appetite level and healthy blood sugar levels already in normal range.*
LEAN MUSCLE MASS
Another benefit to taking Mass Machine Nutrition MM120 CLA is an increased, positive response to fatloss due to the higher amount of muscle being preserved. MM120 CLA can also aid weight loss by inhibiting fat from being transported and stored in fat cells and preventing the body´s fat cells from increasing in size.*
WANT TO KNOW MORE?
...Check out
The Video
STAY UP-TO-DATE!
TRAINING
|
NUTRITION
|
MOTIVATION
|
SUPPLEMENTS
Do you have a question about training, nutrition, motivation, or supplements? Get them answered by Skip La Cour himself in his Skip La Cour Mass Machine Training" thread in the Forum section. CLICK HERE! You can also learn from the questions asked by others and from the articles, videos, podcasts, training routines, diets, and more posted on a continual basis.
You want to know more about Skip La Cour, Mass Machine Nutrition, what you need to know about proprietary blends, and how to make the most out of your supplement investment?
...Check out
The Video