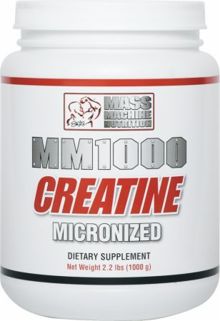 Mass Machine Nutrition MM1000 Creatine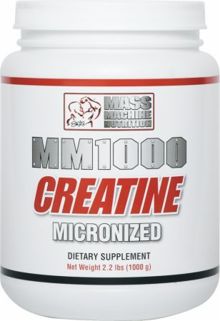 Mass Machine Nutrition MM1000 Creatine
BOOST ATP PRODUCTION*
LONGER MUCSLE STAMINA*
INCREASED STRENGTH*
INCREASED BLOOD FLOW*
MM1000 MICRONIZED CREATINE
MM1000 MICRONIZED CREATINE PURE, UNALTERED CREATINE MONOHYDRATE IS THE MOST WELL RESEARCHED, DOCUMENTED, AND TESTED WORKOUT SUPPLEMENT.*
By avoiding esterification and other creatine modifications found, we have been able to retain the integrity of the creatine phosphates without fractionizing phosphates. This means that you will be able to get the pump, strength, and stamina without the bloat! MM1000 Micronized Creatine is comprised of highest quality, 100% creatine monohydrate phosphates with no fillers, additives, or gimmicks that will compromise the creatine phosphates. MM1000 is pure. It's simple. It's proven. It's effective!*
REAL MUSCULAR POWER
MM1000 Micronized Creatine aids in boosting your ATP production providing longer muscle stamina and increased strength.*
BOOST BLOOD FLOW*
MM1000 Micronized Creatine aids in vaso-dialation within the body, meaning more blood flow of vital nutrients directly to the muscle.*
WANT TO KNOW MORE?
...Check out
The Video
MM1000
MICRONIZED CREATINE

DESIGN

Do you ever feel like you are coming up just short on those last reps of each set? You have the drive, focus and desire to continue but your muscles are screaming in pain to stop and feel completely fatigued. By supplementing with MM1000 Micronized Creatine, you are able to provide your body the essential phosphates of energy needed to carry you through those last reps and far beyond what you felt you could have done initially.* These last sets are the most important to stimulate muscle growth and by using MM1000 Micronized Creatine, you are able to push longer and harder which will stimulate the maximum growth possible.* With MM1000 Micronized Creatine, you'll be able to beyond your last rep!

Most creatines on the market seem to make claims and promises of radical gains with their "new" and "improved" creatine "breakthrough" which involves some scientific alterations but are no more effective than the last. The fact is that they're missing the bigger picture. In order to make creatine 100% effective and avoid creatinine conversion or bloat, you need to have a pure creatine molecule. This means no fillers, additives, or gimmicks that will compromise the phosphate. MM1000 Micronized Creatine are just that. The highest quality, 100% creatine phosphates with nothing added. Pure. Simple. Proven. Effective.
STAY UP-TO-DATE!
TRAINING
|
NUTRITION
|
MOTIVATION
|
SUPPLEMENTS
Do you have a question about training, nutrition, motivation, or supplements? Get them answered by Skip La Cour himself in his Skip La Cour Mass Machine Training" thread in the Forum section. CLICK HERE! You can also learn from the questions asked by others and from the articles, videos, podcasts, training routines, diets, and more posted on a continual basis.
You want to know more about Skip La Cour, Mass Machine Nutrition, what you need to know about proprietary blends, and how to make the most out of your supplement investment?
...Check out
The Video