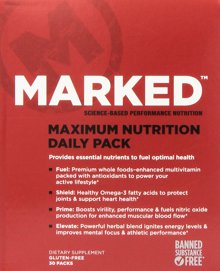 Marked Nutrition Maximum Nutrition Daily Pack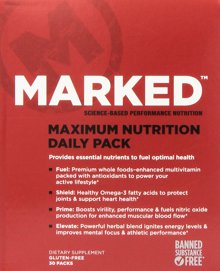 Marked Nutrition Maximum Nutrition Daily Pack
Fitness continues to evolve. Many are opting to forgo bulky physiques for lean, functional muscles. The "Maximum Nutrition Daily Pack" is designed for optimum performance and function. It one in a line of products by Marked Nutrition, a collaborative effort from Mark Wahlberg, GNC and leading nutrition experts.
What is the Maximum Nutrition Daily Pack?
The product is packaged in thirty 5-pill packets that contain 80 different antioxidants, minerals and vitamins. Marked Nutrition claims that it improves digestion, among many other benefits. Packets also contain Lutein, which is designed to improve eye health. Lutein is generally found in most green, leafy vegetables as well as a few other food sources.
Herbal blends improve focus, energy, and blood flow, thus enhancing overall athletic performance, sexual health and blood supply to working muscles. Omega 3 fatty acids are contained in the product as well and designed to improve joint function and health. Omega 3's have also been known to improve heart and brain function along with vision.
---
Side Effects
Individual packets should be taken one time per day with the morning meal. There are no known documented cases of adverse side effects associated with the Maximum Nutrition Daily Pack. Most American diets lack sufficient Omega 3 fatty acids provided in the product. These fatty acids are essential to the body and are very difficult to consume in excess.
There are no known adverse side effects associated with excessive consumption, but always follow instructions on the packet to be safe, unless instructed otherwise by your doctor.
Users should note that Omega 3 fatty acids have been known to inhibit the body's ability to coagulate blood. Therefore, those taking coagulation medications or preparing for surgery should not take this product. Cessation of the product is recommended two weeks prior to surgery.
There are also no documented cases of Lutein overdose or adverse side effects associated with excessive consumption. However, consumers are recommended to stay within recommended guidelines. Users are recommended to consult their physician if they are nursing, pregnant, suffer an allergic reaction or take any medications.
---
Customer Reviews
Generally, customers appear to be pleased with the use of this product. It received an overall rating of 4.5 out of 5 stars based on consumer opinion. Users concurred that the product provided energy to last throughout the day. Practically all would recommend the product to friends and family. The Max Nutrition Daily Pack also received high marks for price. However, taste seemed to be of concern to few customers but was tolerable for the results achieved.
Overall Fitness and Aging
The Max Nutrition Daily Pack is part of a complete fitness system by Marked Nutrition and is designed to address all aspects of health. The claimed health benefits of this particular product appears to extend beyond aesthetics associated with general fitness. The product provides additional benefit by addressing many aspects of health associated with increased age. Eye and joint health along with energy prove vital to an older community that is more active than times past. Increased blood flow could also prove vital to an older, male population that may experience mild challenges with erectile dysfunction.
Consumers should note that the Maximum Nutrition Daily Pack has not been evaluated by the Food and Drug Administration and must remember that any supplement should be a part of a well-balanced nutrition program. Success is ultimately found in time and discipline. Be dedicated.