Quick Links to Best Prices Price History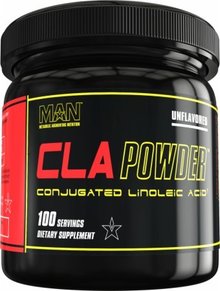 CLA Powder
CLA or Conjugated Linoleic Acid is a slightly altered form of Omega-6 fatty acid Linoleic Acid. Nearly all athletes could benefit from CLA supplementation due to the vast benefits including increased metabolic rate and supporting lean muscle growth.* It's suggested that CLA signals your body to utilize fat for fuel, thus resulting in improved muscle tone.*
Supports Fat Metabolism!*
May Increase Lean Muscle Mass!*
Ultra-Unique Flavors!
Taste Matters at MAN Sports!
We didn't invent flavoring systems.. we just perfected them. Here at MAN Sports flavor is everything. It's has nothing to do with science or efficacy – but it's important to enjoy what you spent your hard earned money on. Simply stir with a spoon & enjoy!
CLEAN - No Artificial Colors or Dyes!
If there is no need to add excess artificial colors & dyes, then why do it? We like our supplements as clean & pure as scientifically possible. CLA Powder has everything you want with no fluff, fillers, or marketing BS. It's that simple.*