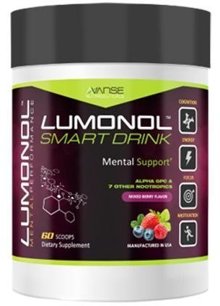 Lumonol Smart Energy Drink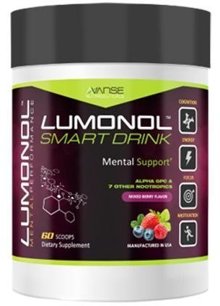 Lumonol Smart Energy Drink
NOOTROPIC THAT TRULY WORKS – Supercharge your overall cognitive performance with Lumonol. This is the fuel your brain and body need to perform optimally.

BENEFITS YOU WILL NOTICE – You will see your energy and focus improve drastically. Unlike caffeine, you'll feel a clean, natural buzz with no crash. It will help reduce anxiety and mood too.

ALL NATURAL BLEND OF NUTRIENTS – There are no fillers in this formula. Only tested and proven ingredients are used. Included are Alpha GPC and 7 other powerful nootropics.

TASTY POWDER THAT MIXES EASILY – Don't you hate having to take a fistful of pills when taking some mental boosters? You'll love the way this smart drink mixes and tastes. No more wasting time swallowing pills!

NO NEGATIVE SIDE EFFECTS – You won't experience any jitters, sweats or get that mid day crash like caffeine. This supplement is safe for everyday use.
More