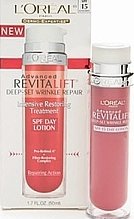 L'Oreal Advanced RevitaLift Advanced RevitaLift Deep-Set Wrinkle Repair SPF Day Lotion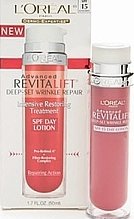 L'Oreal Advanced RevitaLift Advanced RevitaLift Deep-Set Wrinkle Repair SPF Day Lotion
L'Oreal Day Lotion RevitaLift Deep-Set Wrinkle Repair Description
L'Oreal Paris Skin Expertise
Intensive Restoring Treatment
Pro-Retinol A + Fiber-Restoring Complex
Formula Essentials

UVA/UVB SPF 15 Sunscreen
Non-Comedogenic
Non-Greasy
Dermatologist Tested
Air-Tight Pump Ensures Optimal Formula Quality
Why is RevitaLift Deep-Set Wrinkle Repair right for me?
With age, cell regeneration slows and skin's fiber capital, the support network essential for smooth and wrinkle free skin, begins to collapse. Some wrinkles deepen and settle into the skin, becoming more visible as stubborn crow's feet, forehead, brow and frown lines. For deep-set wrinkles, you need repair.
The Innovation
For the 1st time, L'Oreal Laboratories have created a repairing treatment with Fiber-Restoring Complex clinically proven to help visibly reduce the appearance of deep-set wrinkles and shown to help repair skin's fibrous support.
Deep-Set Wrinkle Action
1.  Advanced Deep-Set Wrinkle Repair
With Pro-Retinol A, it's shown to accelerate cell turnover for visibly smooth and revitalized skin. Reduces the size and depth of deep-set wrinkles.
With Fiber-Restoring Complex, containing ingredients which are shown to help repair and protect skin's fiber capital.
2. Advanced Protection
UVA/UVB SPF 15 helps protect the skin from UV damage.
After one application, hydrates skin for 24 hours.
See Visible Results
In 4 Weeks The appearance of deep set wrinkles is visibly reduced. 86% of women saw firmer skin
In 8 Weeks 76% of women saw younger looking skin.
Over time Clinically proven to help boost repairing action when used the Deep-Set Wrinkle Repair Night Cream.
Directions
Every morning after cleansing, use along or under make-up. For sunscreen benefits, apply prior to sun exposure. Smooth gently onto the face and neck.
Disclaimer These statements have not been evaluated by the FDA. These products are not intended to diagnose, treat, cure, or prevent any disease.