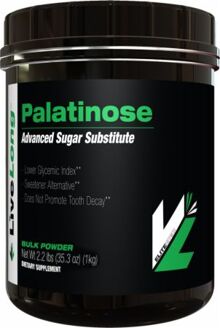 LiveLong Nutrition Palatinose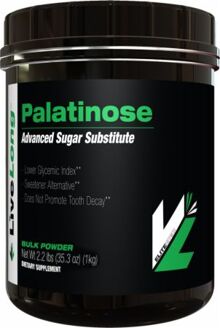 LiveLong Nutrition Palatinose
INSTANT SWEETNESS
LONG-LASTING ENERGY
Palatinose from LIveLong Nutrition is a scientifically advanced sugar substitute designed to taste sweeter than sugar, and yet provide a slow, steady stream of glucose rather than a sudden peak which leads to dip in energy levels and appetite. Palatinose is low on the glycemic index, can be used in baking and will give any food a sweetness the athlete craves without promoting tooth decay, causing blood sugar dips, and will provide a nice even stretch of glucose for the athlete to work hard all day.*
SATISFY YOUR SWEET TOOTH
Palatinose has a sweetness about half of sugar. Best of all, it tastes like real sugar instead of artificial sweeteners like sucralose or aspartame. Even with its incredible taste, Palatinose has a unique structure that makes breaking it down into energy take much longer than regular sugar (sucrose). This affords the athlete a time-released, constant stream of energy. It is completely absorbed, and slowly hydrolyzed (the process of breaking down sugar is known as hydrolysis), so the athlete gets the needed carbohydrate to power through metabolically intense workouts, without the crash associated with other sugars. Many of our customers also prefer a "real" sweetener versus aspartame or sucralose, both due to a more authentically sweet taste, as well as its usability in baking recipes. Other sweeteners don't handle the heat of baking quite like real sugar and Palatinose does. As an added bonus, Palatinose does not promote tooth decay like regular sugar since the sugar is not an immediate source of energy for the bacteria present in the mouth.
TIME-RELEASED ENERGY
At the heart of what makes Palatinose different from other sweeteners is its unique structure which requires several key metabolic steps in order to release the glucose to use for energy. Adding a serving to an electrolyte drink will give it a sweetness that satisfies, and yet the slow release of glucose will give the athlete a beneficial steady rise in blood sugar levels, instead of the typical crash that occurs with other sugar sources, even maltodextrin. If you need a slow released carbohydrate that will give extended energy benefits throughout several hours, then Palatinose is the right choice for you. No other sweetener on the market can give the same sweetness while also delaying fatigue and providing a steady stream of glucose to power through long workouts or athletic activity.
LOW GLYCEMIC IMPACT
FOR LEAN GAINS AND FAT LOSS
While Palatinose has many benefits, our customers and sponsored athletes really appreciate the low glycemic impact it has on their diet. While it packs a sweet punch, Palatinose sits at 32 on the glycemic index, right next to whole grain wheat. This means you get a slow and steady increase in blood glucose. But why is that important? For two reasons. One, a low glycemic food will help support appetite control.* It will be easier to avoid cravings because blood sugar will remain consistent, rise slowly, and fade gradually. The second reason is intimately tied in with the first. If you are trying to maximize your lean mass and reduce stored bodyfat, it's important to keep the fat storage hormone, Insulin, as low as possible. By not spiking Insulin, you prevent both the blood sugar crash related cravings, as well as the fat storage promoting spike of Insulin levels.* Essentially, with Palatinose, you can have your sweetness, without the negative impact on cravings and fat storage.*
ENDLESS POSSIBILITIES
AMAZING BENEFITS
Many of our customers have found Palatinose to be a great substitute for sugar in baking. Now you don't have to skip out on the real sweetness of sugar while trying to maintain good health and maximize your leanness. Many report using about twice as much Palatinose to regular sugar in order to get the right amount of sweetness. Adjust to your preference. Add a scoop of Palatinose to your next preworkout protein drink if extended endurance is important to you. If you are trying to maximize muscle gains, consider sticking with maltodextrin or another similar fast-acting sugar. While watching your waistline, add it to your shake and enjoy the benefits.