Quick Links to Best Prices Price History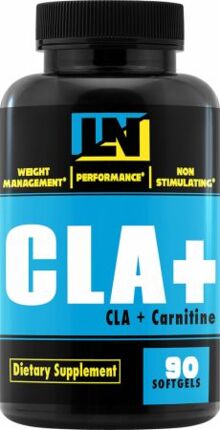 LiveLong Nutrition CLA+Carnitine
CLINICALLY PRECISE BODY TRANSFORMATION
CLA + Carnitine from LiveLong Nutrition sits in a class all its own. There are countless "fat loss" products on the market today, along with just as many "muscle building" products. What's more, most of these products fail to accomplish either goal. What sets CLA + Carnitine apart is its unique effect on lean body mass and fat storage simultaneously. Many people have chased the holy grail of losing fat and gaining muscle at the same time. With CLA + Carnitine, this illusory goal is finally achievable.*
SYNERGISTIC RESULTS
Conjugated Linoleic Acid (CLA) is not new to the supplement market. Its popularity has waxed and waned throughout the past few years. Many hoped it would be a magic bullet for fat loss, and while the studies suggest that it is, it's important to note that the kind of changes that occur with CLA are much more subtle at first, both because it simultaneously supports lean mass, and because it directly targets fat metabolism without the use of adrenergic stimulants like yohimbine. It takes at least 14 days of consistent dosing of a highly refined CLA product to start noticing its beneficial effects.* L-Carnitine is another popular weightloss and performance enhancement supplement. When choosing a Carnitine product, it's important to use the right kind of L-Carnitine. That's why we used L-Carnitine-L-Tartrate, which produces much more dramatic effects due to its greater bioavailability, enhanced absorption and increased cellular uptake.* L-Carnitine-L-Tartrate participates in several key metabolic activities which support greater fat loss, increased lean muscle mass, and enhanced energy levels.* Each of these supplements stand on their own, but our research has given us a unique insight into a synergistic relationship between these two compounds. In other words, the combination of both ingredients will increase the results much more so than the combined effects of both taken separately.
TRANSFORMATION DEFINED
CLA is a naturally occurring fatty acid that was once found in abundance in beef products, and has amazing effects on lean body mass.* In particular, our interest lies in its potential to increase lean muscle mass while at the same time as activating pathways which utilizes stored bodyfat to be used for energy production.* CLA does what other fat loss products fail to do: Cause an increase in metabolism of fat, while simultaneously protecting muscle tissue and in some instances, actually increase lean muscle mass. Because of this combined effect, the results will seem more subtle, but the end result is preservation of muscle tissue during times of caloric restriction as well as increased fatty acid oxidation, which may lead to reduced bodyfat stores. CLA is more than just a fat burning product, it is a body transformation tool, gradually but noticeably helping support healthy body composition.* CLA on its own can be very useful to people. But what makes CLA + Carnitine different is the combination of these two ingredients, and their synergistic effect on results.
THE GAME CHANGER:
L-CARNITINE-L-TARTRATE
L-Carnitine-L-Tartrate is a highly bioavailable form of L-Carnitine. an essential amino acid, meaning it cannot be created in the body, so it must be consumed from whole protein sources. L-Carnitine-L-Tartrate participates in several important bodily functions, but what interests us most is its ability to multiply the effects CLA has on body composition. L-Carnitine-L-Tartrate increases androgen receptor density, meaning it makes the Testosterone our body produces work even more effectively. This leads to muscle protein synthesis and nitrogen retention. L-Carnitine-L-Tartrate is also essential to the fat burning process within the mitochondria, or the cellular engine. L-Carnitine-L-Tartrate increases the release of fatty acids to be used for energy even when carbohydrate is present. This means, as L-Carnitine levels increase, the ability to lose fat while also consuming regular amount of carbohydrates goes up significantly. It only makes sense then, to include L-Carnitine-L-Tartrate in a fat loss product like CLA. But it goes one step further. CLA plus L-Carnitine-L-Tartrate means enhancement of each supplement, leading to results greater than either product alone could deliver.*
CLA + CARNITINE = RESULTS X3
While both of these supplements have stood the test of time, rigorous scientific scrutiny, and real world results, we realized that combining the two will lead to increased results on a scale never before seen. With CLA, increased fatty acid oxidation is increased. But, without adequate L-Carnitine levels, that fat loss is stifled due to lack of fat burning enzymes. By supplementing with L-Carnitine-L-Tartrate at the same time, the mitochondria of your cells, the engines, will have enough of the needed substrates to melt fat away, even while on maintenance calories. In addition to their combined beneficial effects on fat loss, the two compounds work together to increase lean muscle mass on a scale that neither ingredient could accomplish alone. CLA alone improves muscle mass development, while the additional L-Carnitine-L-Tartrate increases that effect, by increasing receptor density and supporting hormonal balance. If you are looking for a product that will transform your physique, adding lean muscle mass while also burning fat, look no further than CLA + Carnitine!*