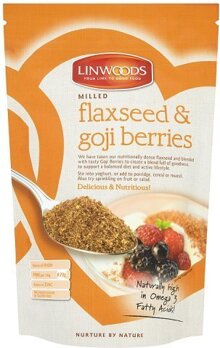 Linwoods Flaxseed & Goji Berries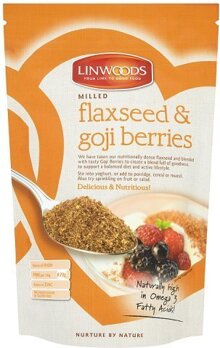 Linwoods Flaxseed & Goji Berries
Linwoods Ground Flaxseed Sunflower Pumpkin & Sesame Seeds & Goji Berries Description
NEW PACK SIZE!
OMEGA 3 ALA - 3.3g per serving
DIETARY FIBER - 6g per serving
Delicious & Nutritious
Gluten Free • No Added Sugar • Non-GMO
Try adding 4 Tbsp/1 oz of Superfoods to your oatmeal, smoothie, salad or yogurt for a nutrient packed pick me up!
A tasty addition to a balanced diet & active lifestyle!
Linwoods cold-grinds their seed for quick and easy absorption into the body.
Health Benefits Include:
Omea 3 (ALA) 3.3g per serving - Contributes to the maintenance of blood colesterol levels that are already in the normal range
Excellent source of DIETARY FIBER - helps maintain healthy bowel regularity.
Suitable For A Vegan Diet • Dairy Free • Yeast Free • Non-GMO • Gluten Free
Superfood - A Food That Delivers A Structural Or Functional Health Benefit
Directions


Add To Oatmeal, Cereals, Smoothies or Yogurts for a Delicious and Nutritious Boost.

Linwoods recommends 30g (1 oz) = Four Level Tablespoonfuls Daily.

H-ORAC Value (antioxidant value), 2130 ORAC per serving.
Free Of Gluten, GMOs, dairy, yeast. Disclaimer These statements have not been evaluated by the FDA. These products are not intended to diagnose, treat, cure, or prevent any disease.