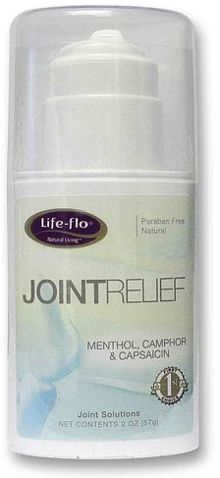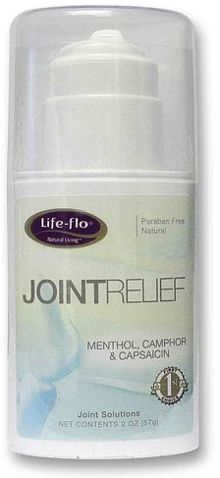 Joint Relief Description from Life-Flo
Joint Relief Penetrating Pain Relief

-Penetrating pain relief of minor aches and pains of muscles and joints associated with arthritis, simple backache, strains, bruises, and sprains

-Combines natural over-the-counter (OTC) therapeutic ingredients with potent herbs for fast pain relief

-Key ingredients: Capsaicin, Camphor, Menthol, Cetyl Myristoleate, Methylsulfonylmethane (MSM), Glucosamine HCL, Rosemary Oil, Tocotrienols (Super Vitamin E) and Croton Lechleri Latex (Sangre De Grado)

-Natural cream free of synthetics including Parabens

-Packaged in airtight, hygienically sealed container

-Available in 2oz size

-Non-greasy and formulated for excellent absorption.
Ingredients:
ACTIVE INGREDIENTS: Menthol (5.0%), Camphor (0.644%), and Capsaicin (0.025%)

INACTIVE INGREDIENTS: Aloe Barbadensis, Boswellia Serrata Resin Extract,Butyrospermum Parkii (Shea Butter), Caprylic/Capric Triglyceride, Cis-9-cetylmyristoleate, Croton Lechleri Latex (Sangre De Grado), Glycerin, Glyceryl Stearate, Glucosamine HCL, Helianthus Annuus (Sunflower) Seed Oil, Hydroxypropyl Methylcellulose, Isopropyl Palmitate, Methylsulfonylmethane (MSM), Nutmeg Oil, Phenoxyethanol and Caprylyl Glyco
Manufacturer's Directions
Adults and children 2 years of age and older: apply to affected area not more than 3 to 4 times daily. Children under 2 years of age: consult a physician.