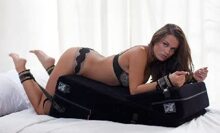 Liberator Wedge & Ramp Combo Black Label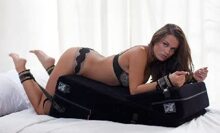 Liberator Wedge & Ramp Combo Black Label
IMPORTANT SHIPPING INFORMATION
Delivery in the Continental U.S. only. This item is ground shipped by the manufacturer and may take up to 14 days to reach its new home. Trust us - it's worth the wait!
Imagine...a sensual playground of velvety props and shapes!
A playground that can transform your bedroom or any room in your house into a place for lovemaking adventure. A playground that's also ideal for massage, outdoor sex and amazing new ways never thought possible! Liberator Bedroom Adventure Gear™ provides modular, stackable, spontaneous fantasies. Whether you own one or more, you'll surely realize that SEX without them is just plain flat!The best thing about Liberator with playful restraints is its adjustability. You set the pace and decide how wild you want to get. Pros will love how strong the bonds are and how many variations they can try. Beginners will warm to the sensuality of soft fabric and comfortable, adjustable cuffs. Use one Shape, or click them together for endless variations. Picture yourself angled down, blindfolded, and helpless to your lover's touch.
Seven multiple climaxes in one session. Think it can't happen? Think again. With this many possibilities in the positioning there's nothing you can't do. Clasping cuffs that remember to be romantic and a blindfold to set your imagination on roam. It's teasing so tasty you'll be begging for more.
Your accessory kit is included: one soft, velvety blindfold, four soft adjustable high-quality handcuffs and four lengthening tethers to increase your play options.
Wedge/Ramp Combo
Liberator Shapes provide "stackable" fantasies that are so much fun, even the shyest of lovers can't resist them.
The Wedge
Our Liberator Wedge makes a great gift or the perfect starter for your own adult playground. It's portable enough to store easily, yet it's compact size supports dramatic angles and elevations. Alone or stacked with the Ramp™ or Stage™, the versatile Wedge™ encourages endless ways to play.
The Ramp
Consider this the centerpiece of Liberator Shapes. The intense angle of the Ramp™ is wild enough on its own. But it's also the base of the incredible Wedge™ & Ramp™ Combo. Or place the Ramp™ on the Stage™ for a steep, deep slope taken to new heights. The incredible fabric won't ever slip - each Shape firmly interlocks. The stored Ramp™ takes up no more room than a suitcase.
Here Are Just A Few Of The Benefits To Liberator Shapes:
Liberator Shapes enable wild positions, some of which were previously impossible!
Since Shapes™ encourage what many deem to be "G-Spot" positions; a few women who've tested the product find it easier to orgasm using them.
They make sex-on-location (in the kitchen, in the back yard, on any floor, etc.) a comfortable reality. No more rug burns or simple missionary when you're feeling frisky outside the bedroom.
Women who have previously experienced some discomfort or even pain during intercourse (dyspareunia) find that Shapes™ can help alleviate that pain.
They keep bodies relaxed and comfortable, which can make sex - especially sex in a new, exciting position - last longer.
Anyone who's incorporated furniture in their lovemaking will appreciate how equally supportive, but infinitely more washable, Shapes™ are. The velvety outer cover is machine washable and the inner cover is silky waterproof nylon that holds up to any water-based lubricant or fun slippery food sex!
Anal sex takes patience and time to comfortably and pleasurably achieve. Shapes™ offer comfort and support before, during and after this act.
Couples who are of differing heights or sizes profit from Shapes™. They are the "great equalizers" and enable positions previously impossible for mismatched couples.
Finally, they are a non-threatening, "not too kinky" sex toy. Any adventurous lover with a shy partner will be able to introduce Shapes™ without scaring the bashful lover off.
Also check out the basic Wedge/Ramp Combo