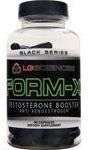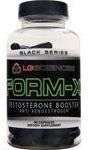 EXPIRATION DATE 03/2015
LG Sciences
FORM X

LG Sciences Form-X 90 Caps

LG Sciences are reknowned amongst the serious munity with a reputation for product quality muscle builders and testosterone boosters. Now they have brought out the eagerly anticipated Form-X supplement. Form-X is an incredibly strong testosterone booster as well as aromatase inhibitor, blocking the conversion to estrogen that has been associated with d-aspartic acid products. It also contains a natural SERM complex, designed to boost the body's production of testosterone, making Form-X the ideal testosterone boosting supplement. This is ideal for those wanting the ultimate test boosting product around.

Directions:
As a dietary supplement take 2-6 capsules per day divided into two separate doses. For best results use for 4 to 8 weeks. Do not exceed 8 weeks of continuous use. Always check with a physician before using any dietary supplement. Discontinue 2 weeks prior to surgery. Do not exceed recommended daily dosage.

DO NOT USE IF GOVERNED BY AN ATHELETIC BODY OR GOVERNING BODY THAT PROHIBITS THE USE OF PERFORMANCE ENHANCING SUPPLEMENTS.

Made in a facility that also processes egg, diary, soy, peanut, tree nuts, fish, crustaceans/shellfish, wheat, and barley products. LG Sciences, LLC

Serving Size 1 Capsule
Servings Per Container90
Amount Per Serving
% DV
Testicular Engine
0.00
0%
D-Aspartic Acid
500.00 mg
0%
Proprietary Blend
145.00 mg
0%
Quercetin
**
Piperine
**
Ginger 10:1 Extract (root)
**
Anti-Aromatase
10.00 mg
0%
2-Phenyl-benzo[h]chromen-4-one
**
SERM
30.00 mg
0%
Phellodendron Amurensis Extract (Bark)
**
** Daily Value (DV) not established


 


Other Ingredients: May contain one or more of the following inert ingredients: (Magnesium Stearate, Sodium Starch Glycolate, Croscarmellose Sodium, Titanium Dioxide, Dicalcium Phosphate Dihydrate, FD&C Red Dye #40, FD&C Blue Dye #1,, Gelatin)

Warning: KEEP OUT OF REACH OF CHILDREN. Consult your physician before using this dietary supplement. Do not use if you are at risk or are being treated for high blood pressure, heart kidney, thyroid, or psychiatric disease, difficulty urinating, prostate enlargement, anxiety, depression, seizure disorder or stroke. Consult your health care professional before use if you are taking antidepressants, MAO inhibitors or any other drugs. Discontinue use and consult your health care professional if dizziness, sleeplessness, tremors, nervousness, headache or heart palpitations occur. Consult your health care practitioner before beginning any weight loss program.