Warning: This product is not currently available at any store.
Click the button above and PricePlow will email you when the first store has it in stock!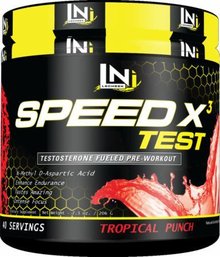 Lecheek Nutrition Speed X3 Test
Testosterone Fueled
PRE-WORKOUT
Energy*
Intense increase in energy with key ingredients like Caffeine Anhydrous, Caffeine Citrate, Di Caffeine Malate, L-Tyrosine & L-Taurine*
Testosterone
A full serving of D-Aspartic Acid in every scoop will help raise your natural test and break barriers in your workouts.*
Focus*
Hordenine HCl creates a hormonally balanced neurological environment with excellent alertness to focus upon workouts for long stretches without drifting into a fog.*
Flavor
Available in three flavors (Grape, Apple, Tropical Punch) with many more to come, we pride ourselves in having the best flavors in the industry.
How is SpeedX3 Test different than other pre-workout products?
SpeedX3 Test is a unique and powerful pre-workout designed to give you intense energy and tunnel vision focus in the gym. What separates SpeedX3 Test from other pre-workouts is it contains N-Methyl D-Aspartic Acid; which will aid in raising your natural testosterone. For maximal results, SpeedX3 Test can be stacked with Amino Test from Lecheek Nutrition.*
Can someone take SpeedX3 Test with other Lecheek products?
SpeedX3 Test was designed to stack with Lecheek Nutrition's Amino Test. SpeedX3 Test may also be stacked with our PumpX3 for the ultimate skin bursting pumps.*