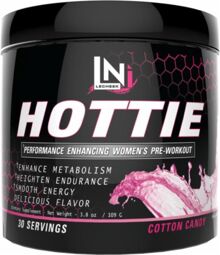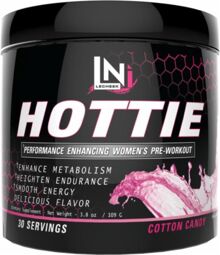 Performance Enhancing Women's Pre Workout*
Enhance Metabolism
HOTTIE is a great metabolism booster and can be used while on a cut.*
Women's Pre Workout Hybrid*
HOTTIE is not only a metabolism booster but a great pre workout for all users.*
Smooth Energy*
HOTTIE is great for a mid-day pick me up with mild energy.*
FLAVOR
Available in three flavors (Cotton Candy, Pink Lemonade, and Forbidden Apple) with many more to come, we pride ourselves in having the best flavors in the industry.
What is HOTTIE?
HOTTIE is one of the latest products. We truly feel there is a void for women looking for a great clean energy pre-workout that taste great.
How should people take HOTTIE?
Begin by taking 1/2 scoop of HOTTIE 30 minutes before any sort of athletic activity. After Tolerance has been assessed, you can take up to one scoop 30 minutes before. HOTTIE contains caffeine; it should not be taken within 4 hours of bedtime to avoid sleeplessness. Never take more than 1 scoop within a 24-hour period.
What can I expect to feel with HOTTIE?
You will feel a great sense of energy, clean focus, and no jitters.*
Can someone take HOTTIE with other Lecheek products?
Yes you can! We strongly recommend stacking with our HOTTIE with HOTTIE BCAA for a complete Pre & Intra workout stack.