Quick Links to Best Prices Price History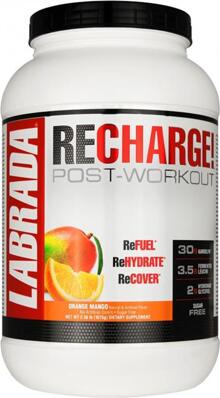 Labrada Recharge Post-Workout
Re
CHARGE!
POST-WORKOUT DRINK
ABOUT ReCHARGE!
Take ReCharge! after your training to replenish muscle glycogen. ReCharge! accelerates muscular hydration and volume expansion, and kick-starts recovery.*
ReCHARGE! contains Karbolyn, which is a designer carbohydrate source that is rapidly absorbed, yet sustains elevations in blood sugar like slowly digested starches.
Karbolyn quickly replenishes muscle glycogen (stored energy) that is used during intense exercise, allowing your muscles to recover even faster.* Karbolyn Advantages:
Absorbed Faster than Dextrose

Sustains Blood Sugar 1-2 Hours*

No Bloating or Cramping*
ReCHARGE! includes Hydromax Glycerol, to increase the fluid in your muscles and blood. Creating fuller, more hydrated muscles.*
Glycerol easily enters the blood stream and muscle tissue, pulling water along with it to reduce the effect of fatigue inducing metabolites from muscle breakdown or energy production; and aids in the exchange of nutrients and waste products.*
ReCHARGE! contains 3.5g of fermented l-leucine, the effective amount suggested in studies to activate the mTOR pathway, which signals muscle growth.*
Fermented amino acids are very pure, and made in a sterile lab environment using absolutely no animal products.
L-leucine is one of the most "in demand" amino acids used during muscle recovery.*
HOW TO USE ReCHARGE!
Suggested Use:
Mix 1–2 servings in 16–24oz of water.
ReCharge! can be consumed during your workout as you begin to feel the effects of fatigue and fluid loss.*
Drinking ReCharge! as you completeyour workout will allow you to take in the restoring ingredients when theyare most needed.
A high quality post-workout whey protein shake may also be consumed within 30 minutes of training, for the best results.
DELICIOUS FLAVORS!
ReCHARGE VS OTHER POST-WORKOUTS
ReCHARGE!

Leading
Post-Workout #1
Leading
Post-Workout #2
Leading
Post-Workout #3
Leading
Post-Workout #4
1 SERVING
43g
1 SERVING
50g
1 SERVING
55.4g
1 SERVING
33g
1 SERVING
20g
Karbolyn
30g

YES

YES

NO

NO

Leucine
3.5g

NO

NO

NO

YES

HydroMax Glycerol
2g

NO

NO

NO

NO

With
Electrolytes

NO

NO

NO

YES
TRUTH IN LABELING
For over 20 years, Labrada Nutrition has performed 3rd party independent lab testing on all of its products to guarantee that you get what you pay for.
ReCHARGE! is backed by founder Lee Labrada's
product quality guarantee:
"If it's on the label, it's in the bottle!"
FOR TWO GENERATIONS,
THE MOST TRUSTED NAME IN SPORTS NUTRITION!