Quick Links to Best Prices Price History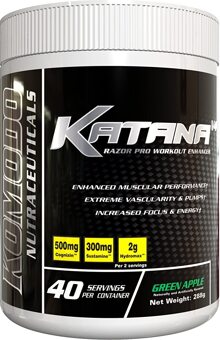 Katana doesn't hit you with a high dose of caffeine like most other pre-workouts seem to do these days. Instead, it relies on non-stimulant "intensifiers" and "nootropics" that deliver tunnel vision focus and energy with minimal overstimulation, jitters, anxiety, and the other nasty side effects associated with these high-stimulant pre-workouts that are becoming commonplace in the industry.
Cognizin (CDP-Choline) heads off the three-headed beast by providing a full dose of highest quality choline source currently available on the market. No other source of choline boasts the human studies, dual effect on uridine/phospholipid synthesis, and blood-brain barrier permeability that Cognizin affords. By delivering choline in such an effective manner, synthesis of the neurotransmitter "Acetylcholine" (ACh) is increased. ACh is the very same neurotransmitter that your nerve cells fire when you decide to contract your muscles. By elevating ACh, you stand not only to enhance the mind-muscle connection and improve muscle contraction, but you also get the energy effects: improved alertness and central energy.
It's important to note that Cognizin acts via the parasympathetic nervous system (PNS). In order to balance this effect, we added L-Tyrosine, a neurotransmitter precursor that acts via the sympathetic nervous system (SNS). This creates a balanced energy and focus, or a "clean" feel, rather than the distracting, mind-altering effects that you may get with other products. As a precursor to dopamine, norepinephrine and epinephrine, L-Tyrosine promotes increased focus, improved mood, and an enhanced ability to deal with stressors (including exercise). Like Cognizin, L-Tyrosine is used at a full dose.
The third head of the three-headed beast is a new kid on the block: Amentoflavone. Amentoflavone is a unique compound with a wide array of effects (touched on in later sections), but as far as energy and focus is concerned, it negatively modulates the GABA-A receptor. This increases wakefulness and energy levels, since GABA is the main inhibitory neurotransmitter in the central nervous system. It also possesses interactions with dopamine and serotonin receptors and has demonstrated anti-anxiety and anti-depressant effects in vivo1-9.
With caffeine acting as the only true stimulant in the formula, you don't have to worry about tolerance. In fact, continuous supplementation with these three energy/focus compounds will actually improve their effects with time. You will never need another pre-workout.
Komodo Nutraceuticals Katana Pre-Workout 30 Servings
Supplement Facts 
Serving Size: 1 Scoop
Servings Per Container: 30
Amount Per Serving
Glycerol Monostearate 2g
L-Citrulline 2g
L-Tyrosine 1.5g
AgmaPure (R) Agmatine Sulfate 1g
Cognizin (R) (Citicoline) 500mg
Caffeine Anhydrous 230mg
Amentoflavone 40mg
Peppermint Extract 4:1 25mg
Bioperine 3mg
Other Ingredients: Natural Flavour, Citric Acid, Sucralose