Warning: This product is not currently available at any store.
Click the button above and PricePlow will email you when the first store has it in stock!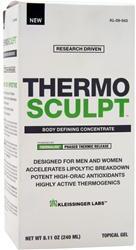 Kleissinger Labs ThermoSculpt
ThermoSculpt Gel: Cellulite Fat-Busting Formula
Designed for Men and Women
A2 Fat Cell Receptor Targeting*
Clinically Advanced Fat-Busting Formula*
Active Ingredients Target Stubborn Areas*
Non-Sticky, Non-Greasy
Smoothes and Rejuvenates the Skin*
Safe, Natural & Effective*
Using clinically advanced, thermogenic technology, ThermoSculpt's non-sticky, non-greasy, fat-busting formula attacks problem areas on contact, leaving the skin feeling silky smooth.*
Scientifically designed to combat troublesome fatty areas and cellulite, ThermoSculpt's advanced formula is clinically proven to help men and women fight stubborn fat deposits on thighs, buttocks, stomach, hips, arms and chin and is the ideal accompaniment to Therminex-XS.*
ThermoSculpt is exceptionally effective when applied prior to mild or vigorous exercise and like all weight loss programs, a sound diet is always recommended. With potent antioxidants and natural caffeine from Yerba Maté, ThermoSculpt helps tighten, firm and protect your skin.*
Containing powerful thermogenic fat-burners, ThermoSculpt's fat-busting formula activates lipid metabolism and boosts glucogenolysis to effectively and rapidly break down fat cells.*
ThermoSculpt's fat-busting formula contains natural, active ingredients that work synergistically to promote cellular response and renewal, rejuvenating your skin for a youthful, silky appearance.*
Why is ThermoSculpt Gel so effective?
Using advanced liposome technology, ThermoSculpt's natural, active ingredients work immediately on contact to emulsify and break down fat, smoothing out the skin and improving appearance.
Ingredient Breakdown
Yerba Maté
Yerba Maté is renowned as a powerful thermogenic fat-burner with kick. It is a potent antioxidant with many health benefits.*
Yerba Maté has 196 active compounds, a higher count of antioxidant-rich polyphenols and is rich in catechins, which studies show help to boost the metabolism and promote fat burning, particularly in the abdominal area.*
Capsicum Extract
Capsicum Extract is a potent antioxidant with phenomenal thermogenic properties. It enhances fat loss by stimulating the production of catechol amines that boost glucogenolysis and lipolysis. It's an ideal calorie burner, increases resting metabolic rate, and helps your body to continue to burn calories long after you workout.*
Capsicum is effective in the oxidation of carbohydrates and fats and dramatically increases bloodflow at the skin's surface.*
Forskolin
Forskolin prepares the skin to allow for deep penetration of ThermoSculpt's fat-busting formula and activates the enzyme responsible for triggering cellular response and lipid metabolism. One of the things that Forskolin does best is help to break down stubborn stored fat. This is a crucial aspect of fat loss that is often overlooked. Before fat can be burned off as heat energy, it MUST first be liberated. Only then can the body burn the released, free-floating fatty acids as energy.*
Corynanthe Yohimbe Bark Extract
Corynanthe Yohimbe Bark Extract helps to increase fat-burning in problem areas like the thighs, buttocks and abdomen, by effectively blocking A2 receptors that interfere with lipolysis. As an effective A2 antagonist, Yohimbe breaks down fats more efficiently over a more sustained period of time.*
Rosemary Leaf Extract Oil
Rosemary Leaf Extract Oil is an antioxidant that contains carnosic acid that inhibits lipid peroxidation in microsomal and liposomal systems. Effectively, it targets fat cells and breaks them down for rapid synthesis.*
MSM and Aloe Vera
MSM and Aloe Vera gel are widely considered ideal "carriers" in that they act as transporters. MSM and Aloe Vera are the perfect "tag team" to act as carriers helping the other nutrients do what they do best.*
Frequently Asked Questions
How do I use ThermoSculpt Gel?
ThermoSculpt Gel can be used up to two times daily and works particularly well when applied just 5 to 10 minutes before working out. Apply a small amount about the size of a dime to the affected area and rub in for about 45 seconds or until fully absorbed. You should experience a slight tingling, warm sensation.
How does ThermoSculpt Gel work?
Using advanced liposome technology, ThermoSculpt Gel's natural, active ingredients work immediately on contact to emulsify and break down fat, smoothing out the skin and improving appearance.*
How long can I use Thermosculpt Gel for?
ThermoSculpt Gel can be used as often as you need it, but should not be used more than two times a day.
When I apply Thermosculpt Gel I feel a warm sensation, is this normal?
It is normal to experience a tingling, warming sensation. This is ThermoSculpt Gel's active ingredients working synergistically together to break down fat on contact. The patented CapsiMax thermogenic, fat-burning ingredient causes this warming sensation.*
How safe is Thermosculpt Gel on sensitive skin?
It is best to test ThermoSculpt Gel 24 hours before use on a small area of your forearm. If you develop any kind of skin irritation, discontinue use.
Will it stain my clothes?
ThermoSculpt Gel's patented non-staining formula will not leave any marks on clothing. Any excess can be removed from clothing with a clean, damp cloth.
How do I know if it's working?
With regular use of ThermoSculpt Gel, you can expect to see a reduction in cellulite and an improvement in your skin's appearance.*
What areas of my body can I apply Thermosculpt Gel?
ThermoSculpt Gel is safe to use on thighs, buttocks, stomach, hips, arms and chin and is the ideal accompaniment to Therminex-XS.*