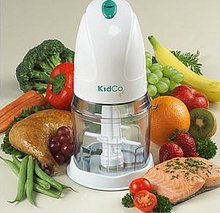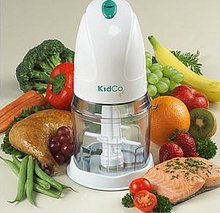 1-2-3 BabySteps
3-Step System for Making Health Baby Food
This guide will walk you through the
BabySteps
system, providing direction in the preparation, storage and feeding of the most beneficial food for your baby. In this book, you will find age appropriate foods and serving sizes, sample recipes and helpful information regarding cooking methods, fresh food selection and much more.(see guide inside box for complete details.)
Blends and purees fresh foods into healthy meals for your baby.
Features Include:
2 cup bowl, Non-skid bottom
Turbo Button for Pulsating Rotations
Blending Attachment for More Thorough Mixing
Dishwasher Safe
BabySteps
is a comprehensive system to making fresh, healthy baby food. It combines a guide and the kitchen tools necessary to create a foundation for long term, healthy eating habits.
Preparation - Select, cook and prepare nutritious foods for your baby.
Storage (Trays not included) - Properly store and keep your baby's food as fresh as it was the day you made it.
Feeding (Dish not included) - Serve meals at home, at daycare, or when traveling.
P>Made in China
* These statements have not been evaluated by the Food and Drug Administration. This product is not intended to diagnose, treat, cure, or prevent any disease.