Warning: This product is not currently available at any store.
Click the button above and PricePlow will email you when the first store has it in stock!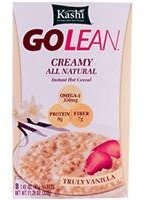 Kashi GOLEAN Protein & Fiber Bar
Kashi - Go Lean CRUNCHY Protein & Fiber Bar Chocolate Almond - 1.59 oz. (45 g) Enjoy our GOLEAN Crunchy! bars, a delightfully light and crunchy snack made with a blend of crispy whole grain cereal and dipped in chocolate. Chocolate Almond This delicious blend of rich chocolate and toasted almonds is a dream come true. About KashiSeven whole grains on a mission. It's more than just a tagline they're the very words Kashi lives by. Read on to find out what exactly makes up a whole grain. And finally, learn what nutrition and health benefits Kashi seven whole grains have to offer. What exactly are whole grains?Simply put, they are small, edible seeds that come from grasses such as wheat and barley. As long as all of the grain components are present, from the outer shell to the "germ" deep inside, whole grains can be ground, cracked, or flaked, and still retain their benefits. Grains are made up of three main components: the bran, the endosperm, and the germ. Bran, or outer shell, protects the seed and provides fiber, B vitamins, and some trace minerals. Endosperm is most of the inner body of the seed . It is rich in protein and carbohydratesbasically a concentrated energy source. Germ makes up the remaining part of the seed; it contains vitamin E (a potent antioxidant) as well as other antioxidants and B vitamins. All of the grain's nutrients, phytochemicals (health-protective components of plant foods), vitamins, and minerals work together to help you stay healthy. Unfortunately, some food makers and restaurants rely mainly on refined grains, in which the seed is stripped of its bran and germ (and the bulk of its nutrients), leaving only the endosperm's carbohydrates and protein. In some instances, food makers will attempt to enrich these refined grains by adding back some of the vitamins and minerals that were lost during processing.